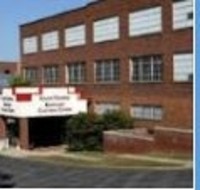 November 1951
01
Albert Gore, Carthage, Tenn., Congressman from Tennessee's fourth district, will be the principal speaker Saturday afternoon at a Democratic rally to be staged in the circuit courtroom of the courthouse.  The speaker will be introduced by Lewis Allen, Bowling Green, president of the Kentucky Farm Bureau.  Rep. Gore will speak in Behalf of Gov. Earle C. Clements' campaign for the U. S. Senate.
[Clements won the senate race – RG]
02
Some 250 Barren County Homemakers and their guests are expected here tomorrow for the 12th annual club meeting to be held at the First Methodist Church, it was announced this week by Miss Eloise Ridley, county home demonstration agent.  Principal speaker will be Mrs. Read Howard, Louisville who will address the group on winter bouquets and Christmas arrangements.
03
APPROVAL GRANTED FOR THE SURVEY RURAL PHONE LINES
Approval was given yesterday to start an engineering survey for the South Central Rural Telephone Coop. which will tentatively locate lines and exchanges for the proposed telephone system in Barren, Hart and Metcalfe counties, as well as adjacent areas.  It is hoped that construction will start in the spring.
04
The Jordan Service Station, located at the corner of North Race and Front Streets, has been sold to Buford Smith, it was announced by C. T. Jordan.  Mr. Smith has taken possession and will operate the station under the name of Smith Standard Service Station.
05
Boy Scouts of the Green River troop, composed of boys from Cave City and Horse Cave, will have an all-day outing Saturday and plan to hike from Northtown to Mammoth Cave.  The Scouts will have lunch at the cave and then play games in the afternoon.
06
Faculty member of Glasgow and Barren County schools will be dinner guest Friday evening of  the Glasgow Chain Store Council.  Teachers are being feted by the council for city and county school work that has been outstanding. An informal program will be held with W. L. Wyant, local J. C. Penny manager.  Other stores who will sponsor the dinner are: Standard Farm Store, Fair Store, Everybody's Store, A&P, J. J. Newberry Company, H.A. McElroy, Anderson's, National Store, Lerman Brothers, Bernard's, Randolph-House and Company, Houchens Market No. 20 and Houchens Market No. 2.
07
Glasgow's grid fans had their football appetite well satisfied here Friday night as they watched a smooth clicking Scottie eleven unofficially clinch the South Central Kentucky Conference crown for the second consecutive year in a thriller that stunned the Tompkinsville bears 42 to 13.  Triple-threat Freddy Travis, sophomore fullback of the Scots, turned in a dazzling offensive performance, the best of his young career, as he carried the pigskin on two touchdown, passed to his teammates for three more counters and made good five out of six place kicks for extra points in one of the most glittering individual gridiron performances in Scottie history.
09
Glasgow's city council Tuesday night stamped its approval to $100,000 school revenue bond issue, sold the building on Front Street occupied by the Glasgow Manufacturing Company to the firm for $20,000 and transacted other routine business.  The school bond issue will finance construction of the new Negro school nearing completion and the bonds will be retired from proceeds of the recently passed rate increase.
10
Approval of the name, the "Bunche School," was given Monday night to Glasgow's new Negro elementary and high school which is now nearing completion. The name was selected by the state department of education from several submitted by patrons of the school.  It honors Ralph Bunche, internationally know Negro statesman who was the UN mediator in the Palestine dispute two years ago.
11
Billy Sam Terry, Cave City, route 1, prominent farm leader of the Hiseville section, was named president of the Barren County Farm Bureau at the group's annual meeting Saturday. He succeeds Ralph Wilkinson of Temple Hill.  Chosen as vice-president to succeed Sam Miller was W. E. Harbison.  Mrs. Russell Gardner was named second vice-president to replace Leslie Brown.
12
Plans are being completed for this year's annual Union Thanksgiving service to be held November 23, at the First Christian Church with the Rev. W. L. Huntsman, pastor of the First Presbyterian Church, as the speaker.
13
In election results, the Caverna school district tax increase was approved, although the measure was downed by Cave City voters. In the Caverna school district board members elected were Kirk Williams, J G. Burd, and E. C. Neville.
14
City Police Judge E. H. Smith yesterday chalked up a new experience in his long career as a local attorney and jurist when he performed his fist marriage.  United in marriage by the judge ware Elva Anderson, 46, and Pauline Cox, 39, both of Bow.  After securing the marriage license from the county court clerk, the couple sought out Judge Smith for the nuptial rites.  He advised them he had never officiated at a wedding. "That's all right," was the reply. "It's our first marriage and we'll learn together."
15
There were 102 additions at the Glasgow Baptist Church during the church's successful revival which ended Friday.  At Sunday night's service 63 were baptized and other will be baptized later.
16
Plumbers started work Wednesday at 131 Race St. in the Spotswood Hotel building, formerly occupied by Miller and Powell Insurance.  Dewey Steenbergen, Sr., local barber, will open a two chair barbershop at the location as soon as remodeling can be completed.  Mr. Steenbergen formerly operated a ship at 214 S. Green St.
17
F. Grinstead and Son's grocery on East Main St. will observe its 44th year in Glasgow Thursday, Friday and Saturday with a gala sale and free gifts. Mr. Grinstead entered the grocery business here in 1906, first a Grinstead and Bailey in the Rock House on West Main. The firm moved to So. Green after about two years.  In 1912 Mr. Grinstead formed a partnership with the late Charles Bake and operated as Grinstead and Baker until 1921.  The firm name of R. F. Grinstead was continued until 1938 when his son Chris was taken into a partnership.
18
Local barbers advanced prices on hair cuts and shaves, effective Monday.  At a meeting of barbers last week, it was decided to raise the price of haircuts from 60 to 75 cents and shaves from 40 to 60 cents.
19
The Glasgow Jaycees Tuesday night approved a Christmas program which includes a residential lighting contest for the city and selected W. D. "Jigger" Aspley as its nominee for the stat organization's "outstanding young man in Kentucky award."  Mr. Aspley name will be submitted next monty for one of the three honor awards to be giving you the state Jaycees.  He has served as American Legion commander, Red Cross chairman, Jaycee vice-president and has been active in other cive affairs.
20
Glasgow police jurors must be paid 50 cents for every case they try, regardless of whether they convict or acquit, City Attorney Geo. J. Ellis, Jr., was told this week.  Mr. Ellis wrote that if a person is convicted in court here, the custom has been to assess jury cost against him but jurors have not been paid in case of acquittals.
21
SUCCESSFUL SALE REPORTED FOR WEBB HEIGHTS PROPERTY
Indications at noon yesterday pointed to a highly successful auction of the new Webb Heights subdivision at the north city limits.  Consisting of the old J. C. Hutcherson estate, the property is woned by J. H. Webb, the sale is being handled by the McCullum Realty Co.  Over $25,000 had been realized by noon for the sale which began at 10:30.  A total of 57 units had been sold with some buyers taking blocks of three and four of the over 200 lots. The Hutcherson home place was purchased by Glen Travis for $4,900.