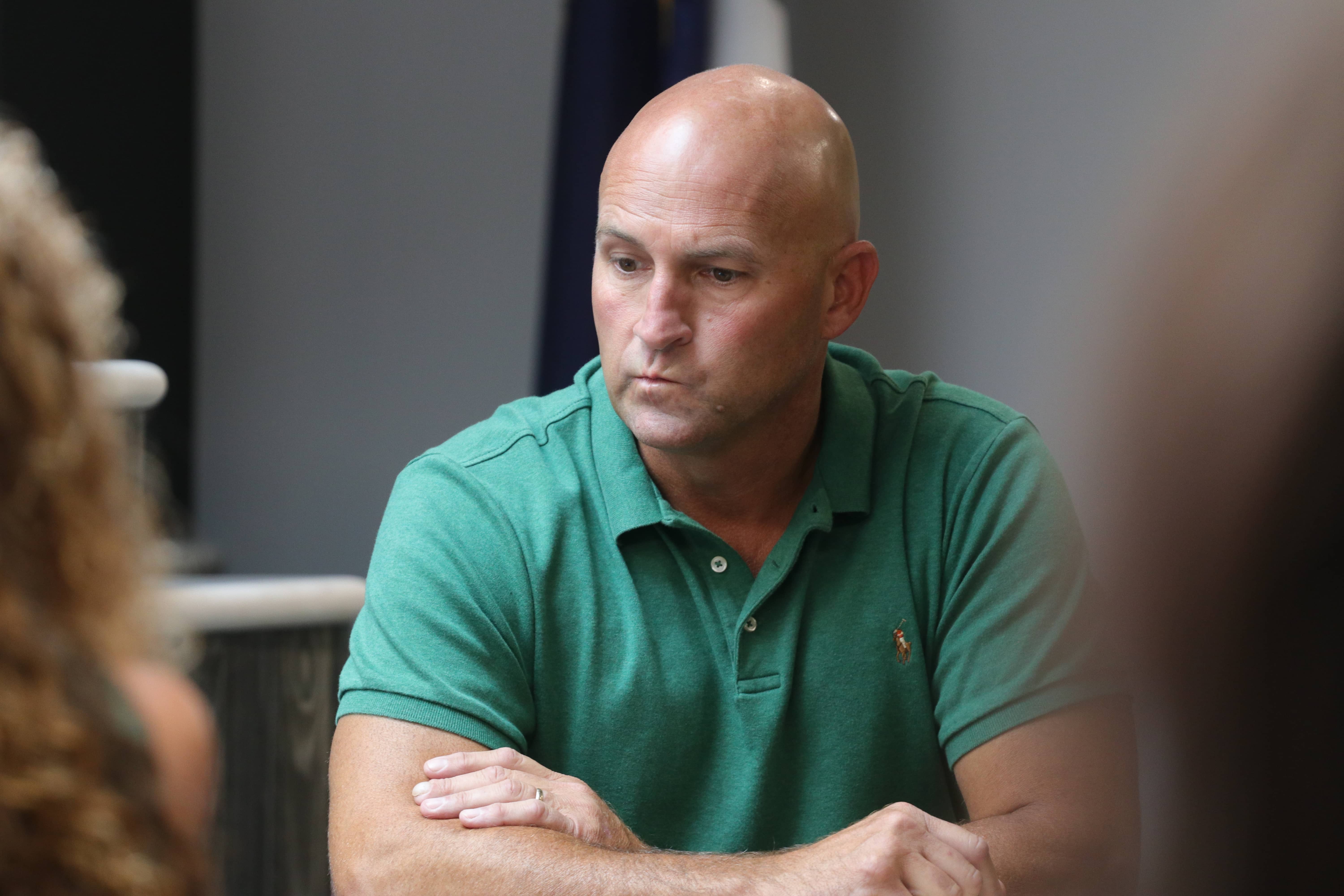 Allegations against Barren County Judge/Executive Micheal Hale (pictured here); Shani, his wife; and others, were dismissed in an order handed down by Barren Circuit Court Judge John T. Alexander on Friday, Sept. 30, 2022. The allegations were made by Greg and Brittany Turner and their business, BG Stables, and dealt with the seizure of a group of horses they previously owned.
(WCLU NEWS FILE PHOTO)
BY BRENNAN D. CRAIN, WCLU News
GLASGOW — In an order issued Friday in Barren Circuit Court, Judge John T. Alexander dismissed the allegations of wrongdoing toward twelve people involved in the seizure of a group of horses two years ago.
The lawsuit was filed June 13 by Greg and Brittany Turner and their business, BG Stables. It named Barren County Judge/Executive Micheal Hale; his wife, Shani; all members of the Barren County Fiscal Court; Glasgow Mayor Harold "MD" Armstrong; local animal control officer, Shelly Furlong; Steve Bulle; and Suzanna Johnson.
The "horse deal," as it has been colloquially referred to, started several months ago. Weeks of uncorroborated reports headlined a local newspaper, political division and desperate attempts to clarify the matter were made from the Barren County Government Center.
Mr. Turner pleaded guilty to nine counts of second-degree animal cruelty in Barren District Court on Feb. 9, 2021. As a part of that plea, he agreed to relinquish a group of horses he owned and operated at Barren River Lake State Resort Park.
An initial complaint of animal abandonment was apparently made to local animal control, and the matter was investigated. Barren County government took possession of nine horses at the state park thereafter. That was in October 2020. The Barren Fiscal Court maintained the horses for several months and paid various bills for veterinarian, feed and lodging, among others.
Magistrates approved those expenditures each month.
Barren County Attorney Kathryn Thomas prosecuted the matter in Barren District Court, which led to Turner's eventual guilty plea. But he later filed suit against the county and alleged he was maliciously prosecuted, and his constitutional rights were violated, among other allegations.
"While Plaintiffs [the Turners] argue that the disposition of the horses after they were voluntarily relinquished somehow injured them, this argument as advanced in the Complaint has no legal foundation," the order said.
"Greg Turner voluntarily relinquished his claim to the horses when he entered a guilty plea and agreed to forfeit them."
The lawsuit also reasoned Mrs. Turner had interest in the horses' ownership, but no evidence of her attempt to petition the court for their return was made. That matter was dismissed.
Judge Alexander described a term throughout the judgement called "estoppel." The term is a legal principle essentially precludes someone from asserting something contrary to a previous action. In this case, Mr. Turner's allegations were mostly dismissed because of his prior guilty plea.
"It is well-established that a party is generally precluded from relitigating [suing] an 'issue actually litigated [sued] and finally decided in an earlier action,'" Alexander wrote.
"One who enters a voluntary plea of guilty that is not set aside 'is collaterally estopped from litigating the issue of his innocence.'"
A statute of limitations was also cited as grounds for dismissal of the allegations. State law outlines a series of claims that can be brought up in court. The Turners' lawsuit included those claims, which were filed after the one-year limitation.
While they were claiming punitive damages, the court dismissed it on grounds of the other claims' failure. The judge also reasoned the governmental entities being sued had "sovereign immunity."
"[T]he claims against the Magistrates and the County Judge-Executive in their official capacities are in practical effect claims against Barren County itself."
As for Johnson, Bulle and Mrs. Hale, the allegations of defamation and conspiracy were dismissed mainly because of the statute of limitations. The judge also reasoned among points, "wives are not responsible for wrongs committed by their husbands."
"Shani Hale qua wife of Micheal Hale has not responsibility for the alleged wrongs of her spouse."