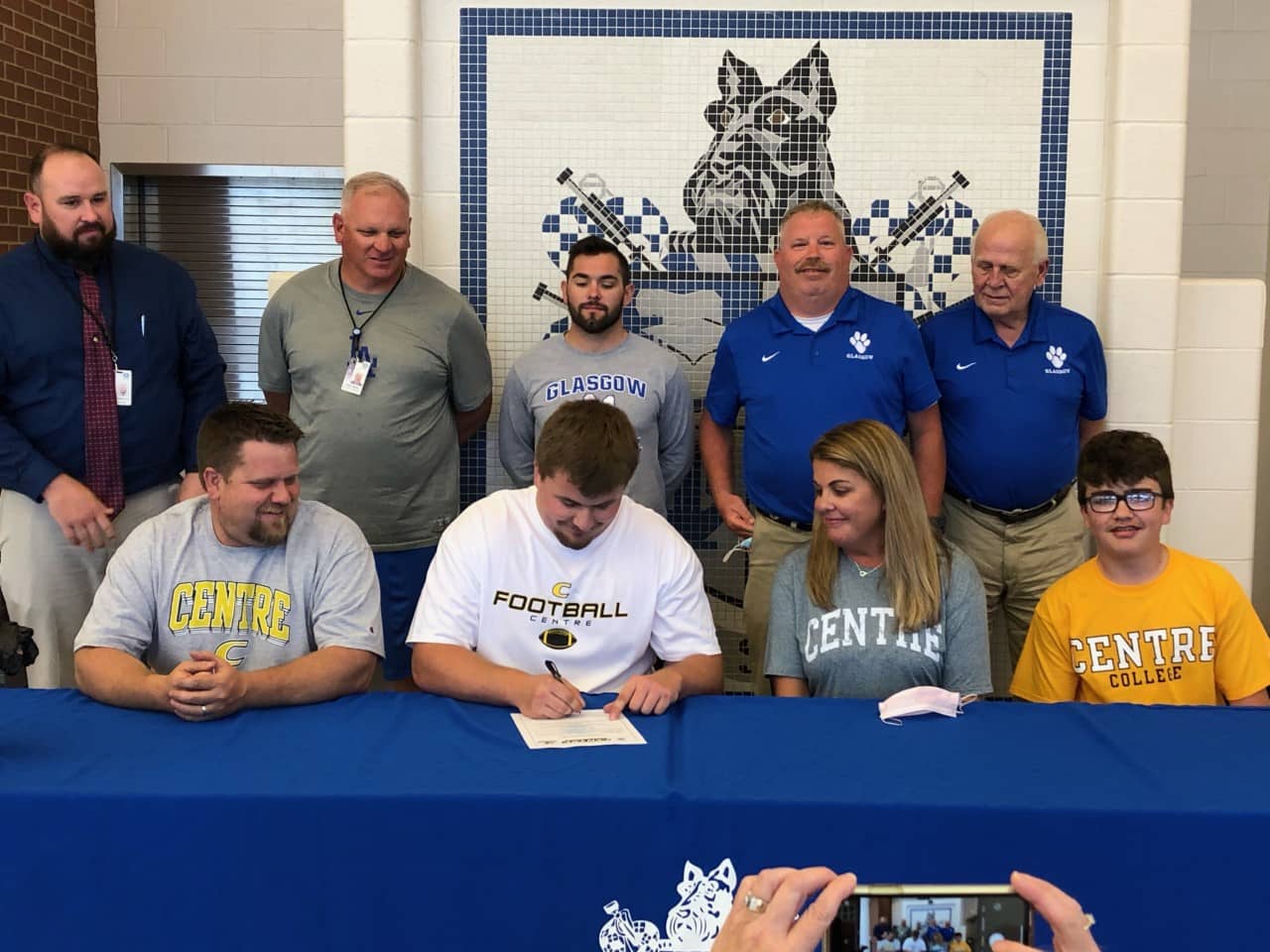 Glasgow senior Tad Shelton is surrounded by coaches and family as he signs his letter of intent to play with Centre College on Monday, May 3, 2021, inside Glasgow High's cafeteria. 
(JORDAN SMITH/WCLU NEWS)
GLASGOW, Ky. — One of Glasgow High School's star football players signed the dotted line Monday to play the game he loves at the next level.
Senior lineman, Tad Shelton, is now the newest member of the Colonels football team at Centre College after a stellar career playing for the Scotties.
Football is a tradition in the Shelton household, but even Tad will admit it took a while to succeed at the game.
"My family was always a football family and I was always a bigger kid so it was always kind of expected that I would play football," Shelton said. "I wasn't very good until I got to about middle school and then I started liking it more and I started to get a little better."
Tad would eventually make his way onto the varsity roster as a true freshman, becoming a three-year starter and a four-year letterman.
He credits the relationships he developed with his teammates at a young age to his success and the camaraderie felt at a small school helped the Scotties average 9.5 wins per year during his four varsity seasons.
"Glasgow, I think, is kind of a football school. We're smaller but we kind of have a tradition of being pretty good," he said.
Tad would collect and array of awards and honors. He became a two-time all SKY Conference team member and helped lead Glasgow High School to three district championships, two regional runner-ups, one regional championship and a semi state runner-up.
He would help the school accumulate a 38-11 record during his time as a Scotty.
His talent and success would catch the eye of some major schools, including the University of Kentucky, WKU and Eastern Kentucky University. The University of Alabama at Birmingham (UAB) even offered a scholarship after Tad's sophomore season.
But Tad, however, decided to trade one small school for another and become the newest member of the Centre College Colonels football team.
"The most enticing thing to me was just the education part," he said about what led him to Centre. "But I really like the coaches there, we have a good bond. The recruits that are coming in, they're pretty cool people. I think it will be a good experience."
Tad Shelton is excited about the next step in his football and educational journey but he will always be appreciative of the place he calls home, the family who raised him and the school that helped mold the type of player and man he is today.
"I just want to make sure everybody knows just how good Glasgow High School is! I've loved my four years here and I wouldn't trade it for anything."