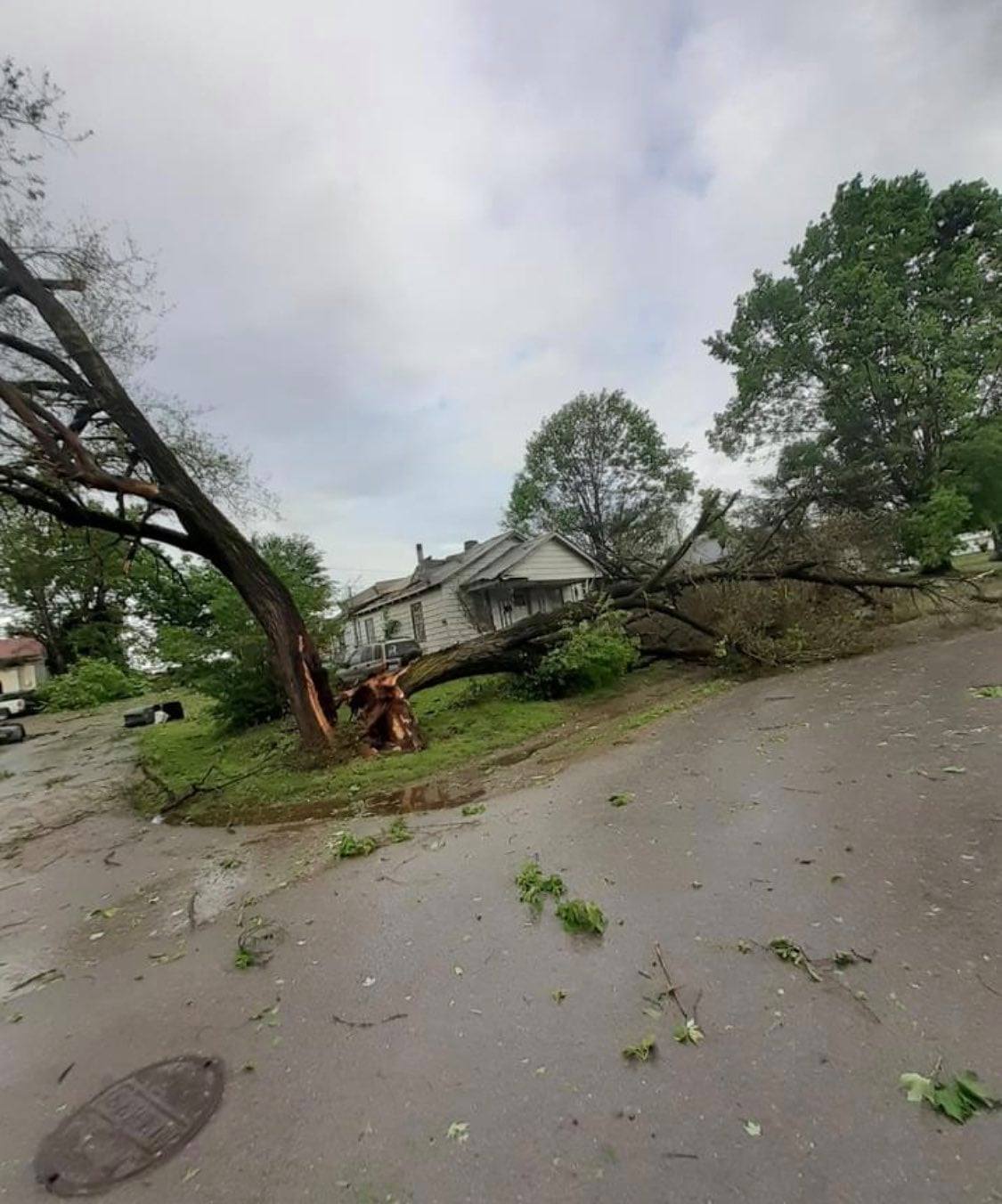 Several homes and businesses were ravaged early Monday as a violent storm crashed through Tompkinsville, Ky. The area was under a severe thunderstorm warning at the time. The National Weather Service expects to survey the land late Monday to confirm whether the storm was actually a tornado. 
(Photo by Marisa Simpson)
TOMPKINSVILLE, Ky. — Several people are without power after a severe storm occurred in Monroe County early Monday.
Several areas across Tompkinsville were impacted when a chaotic wind appeared without little warning. Little warning left many baffled at the storm's authenticity.
"I looked back across by Lifeline Healthcare, and I could see stuff in the air coming this way," Joe Phillips told the Tompkinsville News. "It sounded like a big motor running. As it got closer, it rocked the truck, and I could this house's roof come off and trees go down."
Phillips was in a trash truck during the storm. Chris Pruitt was behind the truck gathering a trash can. Both men told the Tompkinsville News they work for TDS Disposal.
The National Weather Service in Louisville issued a severe thunderstorm warning at 8:01 a.m. Though reports of a tornado have circulated, there has not been official confirmation as of 11 a.m. Monday.
The National Weather Service in Louisville expects to survey the damage later Monday. Official confirmation of a tornado's touchdown will either be confirmed of refuted.
COWS alert systems were not activated, according to some unconfirmed reports.
It's unclear if anyone was injured in the storm.
Various businesses suffered significant damage. The area Sonic suffered damage to its sign, and an area bank was also devastated. Anderson-Bartley Funeral Home also suffered significant damage. Several trees were down across the city.
All Monroe County Schools are in stable condition. None of the schools were impacted by the weather, according to the school system.
Signature Healthcare of Monroe County was also confirmed to be safe and stable.
Emergency personnel have closed various roads in Tompkinsville. It appears the city was mainly impacted. No reports of county damage were known at the time this story was published.
Crews are working to clean and repair infrastructure. Travel to Tompkinsville is discouraged.
Additional information can be found via the Monroe County Press – Tompkinsville News.