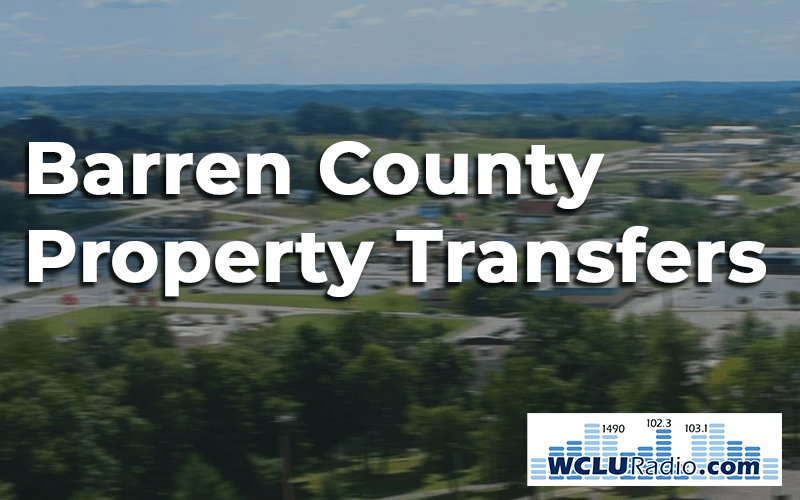 The following property transfers were recorded at the Barren County Clerk's Office from July 31 to  August 4, 2023. Tax information is not reported when money is not exchanged. Such instances include foreclosures, master commissioner deeds, divorce settlements, and  transfers made within a family.
July 31, 2023
Christopher S Holmes to Elizabeth L Geevarghese, 1.02 Acres- Highway 249, $20.00.

Ply- Tech Corporation & Ply Tech Corporation to Commonwealth of Kentucky & Department of Highways, 0.295 Acres- 1297 & US 31 E, $25.00.

Ella Cordilla Glass Pedigo to Arthur P Glass, 22.48 Acres- Genie Franklin Road, $92.50

Andy E Lohden III & Angela M Lohden to Wesley Hicks & Savannah Furlong, 1.572 Acres- Park City Bon Ayr Road, $37.00.

Darren Laws & Thomas Payton to Charles M Danks & Carrie Danks, 0.550 Acres ( Lot 4) Rose Avenue, $240.00

Sammy R Crawley, Sammy Crawley, Ronald L Hampton Trustee & Hampton, Ronald L Trustee to Sammy R Crawley, Kelsey J Crawley, Ronald L Hampton, Trustee & Hampton, Ronald L Trustee, 2 parcels- State Highway #1297.

Samuel Ernest Simpson Trust & Simpson, Samuel Ernest Trust to James Robert Williams & Brandi Ann Williams, Lot (95.43 Sq Ft) Blue Sky Drive,$ 0.50.
August 1, 2023
Larry Wayne Phillips & Robin Renee Phillips to Robin Renee Phillips, Lot #17- Willie Groce Subdivision.

Todd Colbert & Connie Colbert to 813 MCP LLC & 813 M C P LLC, Multiple Tracts- Mammoth Cave Road.

Kenny McPherson, Stacey McPherson, Ethan Brown, Kendall Brown, Kaelin McPherson & Jenna McPherson to Ralph Miller, Multiple Tracts- Rex Birge Road, $49.50.

Stacie L Smith & Stacie l Smith, Josh Smith, Linda J Pedigo, Raymond Pedigo & Linda Pedigo to Nelly N Maxey & Carrington L Maxey, Lot #47- Harlow Trail, $225.00.

Janice Lawson to Constance Pruitt & Celeste Shearer, 62.25 Acres- Capital Hill Road.

Shawn Houchens & Caity Houchens to Timothy Thomas Trulock II, Lot Owen Street, $150.00
August 2, 2023
Joe Steve Norris to Crystal Walden Norris, 2 parcels- Burkes Road.

Zachary Evrard & Brittany Evrard to Matthew Boyd & Gabbie Boyd, 1.005 Acres- Barren County, $247.50.

Ronnie Lindsey, Maretta Lindsey, Joshua Pierce & Chelsea Pierce to Cynthia Siefried, Lot 28- Timber Lodge Terrace Subdivision, $420.00.

Derrick B Cline & Jessica Lynn Cine to  B & T Land LLC & B&T Land LLC, 5.50 Acres- Finney Road, $117.00

Clay Sherman & Gabriel Sherman to Scott Sendtko, 0.912 Acres- Highway 255, $40.00.

Wesley Daniel Hicks to Corey King & Mikayla Sanders, 0.806 Acres ( Lot 24) Whitney Woods Road, $290.00.

Lacey R Blankenship, Lacey R Kimball & Kenny Ray Kimball II to Lisa Proffitt. 0.270 Acres ( Lot 2) Hatchett Court, $215.00.
August 3, 2023
Gregory Brieschke & Lynn Brieschke to Richard Feldman, 1.193 Acres- Highway #90, $306.00.

Joey Ray Bunch & Melissa B Bunch to Tyler D Hensley & Sarah M Hensley, 1.48 Acres- Bluff Springs Road, $30.00.

Mackenzie Gettum to Brenda Reed & Gregory Spears, Multiple Lots- Frazier Street.

Brenda S Reed, John T Reed, Gregory E Spears & Angela N Spears to William Tyler Neal, Multiple Lots- Fraizer Street, $11.50.

Diego Pereda Martinez to Brenda Reed, Multiple Lots- Eastview Park Subdivision.

Brenda S Reed & John T Reed to Connie Miler Neal, Multiple Lots, Eastview Park Subdivision, $17.50.

Gregory E Spears & Angela N Spears to Connie Miller Neal, Multiple Lots- Eastview Park Subdivision.

Jeremy Crump & Kimberly Ann Crump to Jeremiah McKinney & Brianna Ridlen, Lot #4 – A McKinney Road, $60.00.
August 4, 2023
Tim Morgan & Nancy Morgan to Sherry Coffey, O.985 Acres- Beckton Road, $80.00.

Dorothy Matthews & Wes Stephens to Dorothy Matthews & Wes Stephens, 1.069 Acres- Matthews Road.

Madison Makayla Wood to R E Leader, Inc & RE Leader Inc, 0. 238 Acres- Cleveland Avenue, $155.50.

Bana LLC to Melissa Gayle Vernon, 3.962 Acres- U S 31 E, $45.00.

H Wayne Smith Family Irrevocable to Patrick H Kelly & Kelly Coleen Gonbacher, 13.710 Acres- Crow Road, $1,700.00.

Logan Seth Ellis to David Hayes, Lot #31- Edge Water Heights Subdivision, $220.00.