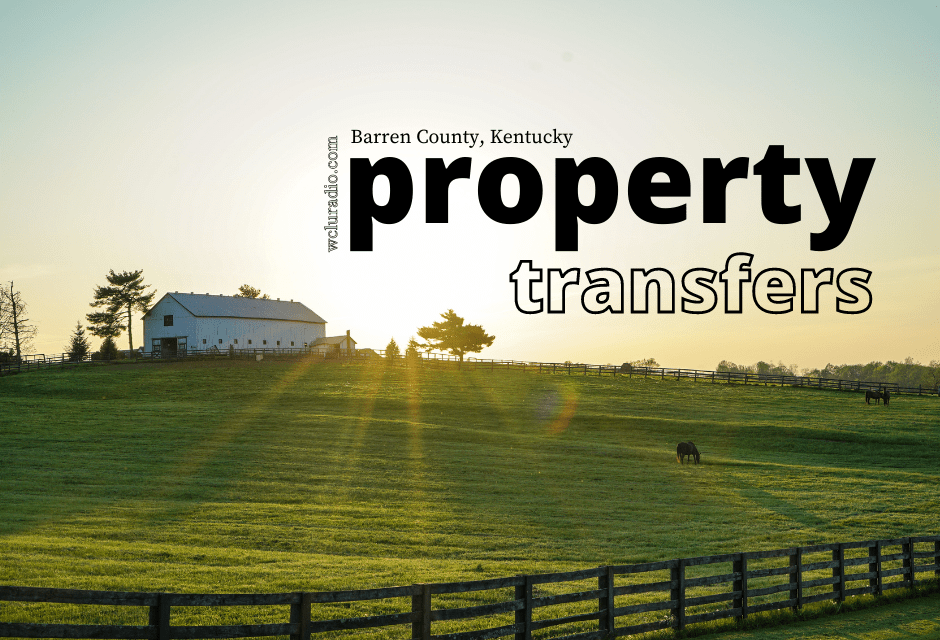 GLASGOW — The following property transfers were recorded at the Barren County Clerk's Office from March 20 to 24, 2023. Tax information is not reported when money is not exchanged. Such instances include foreclosures, master commissioner deeds, divorce settlements and transfers made within a family.
March 20, 2023:
Pamela A. Tirey Crawford, Pamela A. Tirey and James L. Crawford to Thomas Tank, Lot 3 (P14/230), Creekwood Subdivision, $285,000.

Blevins & Blevins LLC to Andrew C. Patterson, Lot 7 (.674 acres), Barren County (P21/810), $207,900.

New Salem United Methodist Church to Ark Foundations LLC, Lot 29, Riverside Drive, $70,000.

Sallie Hammons to Kailasben Patel and Shaileshkumar Patel, Lot 6, Beverly Hills Subdivision, $171,000.

Charles E. France and Jo C. France to Billy R. Nunn Jr. and Kimberly R. Nunn, Lots 17 & 18, Jr. Dickerson Subdivision, $43,000.

Linda M. Young, Jacob D. Young, Ashley Young, Amanda Young, Carly Young-Bolander, Brent Bolander and Carly Y. Bolander to Kevin Webster and Deborah Webster, Lot #38R, Runaway Bay Subdivision, $7,000.
March 21, 2023:
Michael S. Smith and Destiny Smith to Geramy Rackley and Darlene Rackley, 8.814 acres, Steam Mill Road, $575,000.

Harrel Cross and Judy Cross to Samantha J. Caldwell and Zachery D. Caldwell, Lot 2 (P12/953), Joe B./ Chareles R. Richardson Subddivision, $197,000.

Donna M. McElwain to Ashton Creasman, Lot 7 (.265 acres), McFarland Subdivision, $82,000.

Scott Sheesley and Elizabeth Sheesley to Terry R. Compton, Multiple Lots, Indian Hills Resort, $32,000.

Danie L. Turner and Molly G. Turner to David E. Kemp and Ida D. Kemp, Multiple Parcels, Highway 63, $130,000.

Johnny Biggerstaff, Kaye Biggerstaff and Shirley Clerly to Anthony O. Rossi and Ashley M. Orehek-Rossi, Lot 27, Cherokee Road, $4,815.

Marvin L. Jordan and Teri Cortland to Sunshine Flowers and Terry G. Flowers, .589 acres (Lot 86), No Tree Lane, $30,000.
March 22, 2023:
Ronald Vincent and Betty Vincent to Emily L. Davidson and James L. Harris, 1.034 acres, Dripping Springs Road, $330,000.

John S. Chmiel to David Duke and Teri Duke, Lot 287, Cardinal Bay Subdivision, $5,000.
March 23, 2023:
Gary Patterson and Donna Patterson to Mark Douglas and Robin Douglas, .12 acres, Narrows Boat Ramp Road, $2,500.

The Estate of Martha A. Poynter to Paul A. Jones and Derenda F. Jones, 1.707 acres, Gateway Court, $208,000.

Schellye Norris to Lane Norris, 2 Parcels, Western Hills Road, $215,000.

K&M Services LLC to Orby Martin and Nellie Bell, Lot 18, Willie Groce Road, $22,500.

Teddy L. Burks and Kimberly A. Burks to Daniel L. Deckard and Lane M. Deckard, Lot 20 (1.174 acres), Brock Lane, $25,000.

Burton Subdivision LLC to Elfren M. Cajal and Elizabeth Bernadac, 2 Parcels, Burton Subdivision, $273,100.

LMS Pedigo Farms LLC to Zachary Strunk, Lot 7, Northside Estates, $139,000.
March 24, 2023:
James Harp to David A. McBride and Elizabeth J. McBride, Lot 12 & 13, Foxbriar Manor, $235,900.

Johnny Bigerstaff, Kaye Biggerstaff and Shirley Clearly to Eric L. Fisher and Brittany L. Fisher, .927 acres, Indian Hills Road, $9,630.