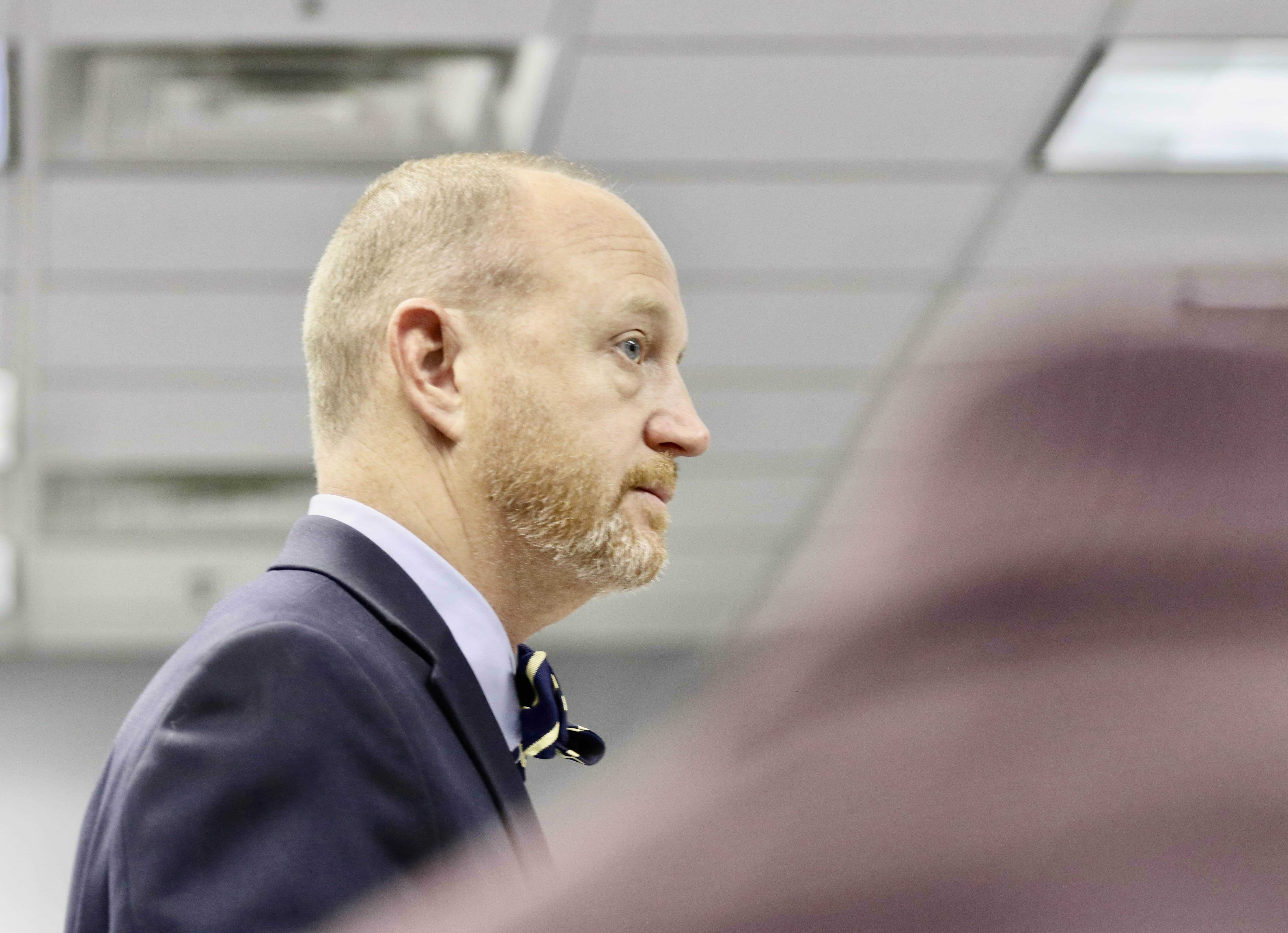 Chip Sutherland, a financial advisor with Baird, details the steps to financing a $32 million judicial center project in Barren County at a meeting of the Barren Fiscal Court on Thursday, Nov. 17, 2022.
(BRENNAN CRAIN/WCLU NEWS)
BY BRENNAN D. CRAIN, WCLU News
GLASGOW — Magistrates of the Barren Fiscal Court approved last week the initial nod toward financing a new judicial center in Glasgow.
A special-called session of the fiscal court was held on Nov. 17. Magistrates approved a resolution, which directed the Barren County Properties Corporation to issue and authorize revenue bonds. The Properties Corporation was called into session to take those actions while the fiscal court was still in session.
"It will fund us until we get to the point where we can do the permanent bonds," said Chip Sutherland, a financial advisor with Baird.
A project development board oversees the judicial center project month to month. They have negotiated with several property owners over the last several months, and those properties are now positioned to be purchased. The bond anticipation note authorized during the fiscal court meeting will cover real estate purchases and costs already paid such as land surveys and architect expenses.
With the authorization, Baird will advertise the bonds to interested issuers. The note is worth $3.695 million. A potential issuer will then loan the money, which will eventually be repaid by the Kentucky Administrative Office of the Courts. The bonds are also known as a construction loan, Sutherland said.
The PDB has placed a Dec. 12 deadline on property closings, including a portion of property owned by the city of Glasgow along West Main Street. The PDB also plans to buy property from the Glasgow Water Company and the Dollar General Corporation.
"We will go out and solicit bids. We'll get responses from interested banks," Sutherland said. "We'll look at them and assess the winner, award it and then move toward closing around Dec. 6. That makes sure the money is in place and in escrows to effect the closing of the loan."
Baird is expected to approach the fiscal court again once construction and design costs are finalized sometime next year. Another bond will then be issued to cover the remaining costs. Because the entire project was approved as a part of an earlier state budget, it will not cost the county taxpayers.
The $32 million allotted to the project will be paid from the state budget through the Administrative Office of the Courts over the course of 20 to 25 years.