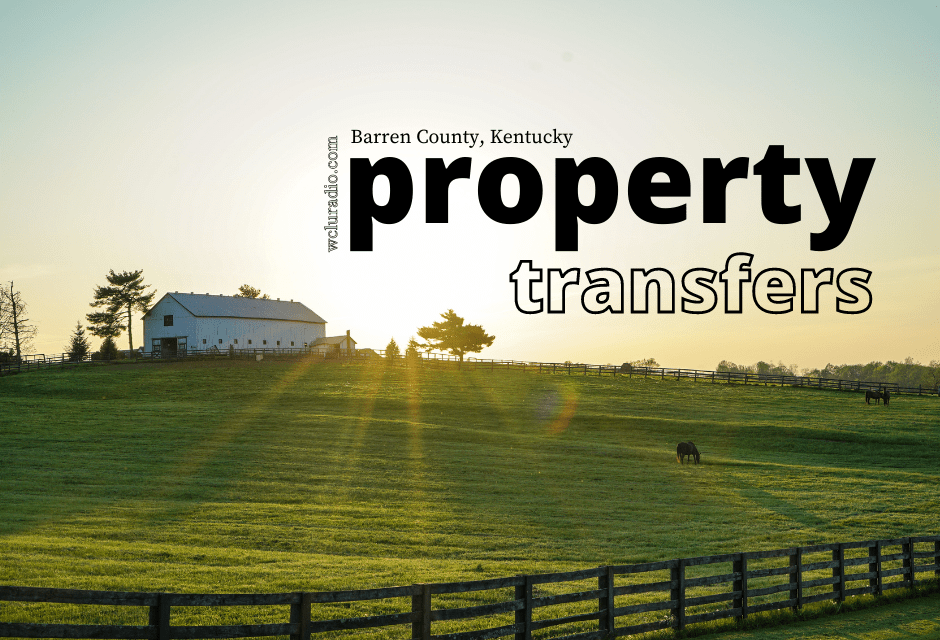 GLASGOW — The following property transfers were recorded at the Barren County Clerk's Office from Aug. 19 – Sept. 2, 2022. Tax information is not reported when money is not exchanged. Such instances include foreclosures, master commissioner deeds, divorce settlements and transfers made within a family.
Aug. 29, 2022:
Jonathon Horton and Tabatha Horton to James T. McMillen, Lot 17 (P18/315), Wellington Subdivision, $27,000.

Ronnie D. Johnson, Christopher A. Holley, Amanda Holley, Jonathan L. Holley and Roberta Holley to Joe L. Hood and Marika Harbison, 1.00 acres, Myers Mill Road, $235,000.

Dana R. Carr, Joshua Carr and Bonita F. Carr to Dana Carr, Dana R. Carr and Joshua Carr, 2 Parcels, Coral Hill Road.

Snake Point LLC to Michael Buchberger and Heather Buchberger, Lot 1 (P4/10), Indian Hills Resort, $50,000.

James C. Lee and Anna M. Lee to Meadows Holdings LLC, Multiple Parcels, Highway 31W, $207,000.

Keven T. Pruitt and Tammy R. Pruitt to Jonathan England and Emilee England, 2.138 acres (Lot 14), Tanglewood, $37,500.

Augustine Leyva to Shavada A. Bunton, Multiple Lots, Columbia Heights Subdivision, $158,000.

Mary E. Nunn to Jeffrey M. Bruce and Anne R. Bruce, Lot, Trigg Court, $250,000.

Bethel G. Hayes to Terrill Riley and Nicole Riley, Lot 3 (.459 acres), Bale Avenue, $8,000.
Aug. 30, 2022:
Jeremy L. Runyon and Angela D. Runyon to Steven G. Hernande and Lorie A. Hernandez, 2 Parcels, Edmonds Road, $125,000.

William C. Swafford, Teresa A. Swafford, Brian Driver (Trustee) to William C. Swafford, Teresa A. Swafford, Brian Driver (Trustee), 4.791 acres (P21/905), Browning School Road.

John R. Borntreger and Alma M. Borntreger to Josie Hostetler and Ida Hostetler, 10.68 acres (P21/927), East Nobob Road, $172,000.
Aug. 31, 2022:
First Care Realty LLC to Columbia Wholesale Company LLC, .513 acres (Lot 2A P21/632), N.L. Rogers Wells Boulevard, $1,682,243.

Estate of Lonnie S. Moore to Warren J. Blaine and Laura F. Blaine, Tracts 11 & 12 (P21/913), $246,100.

Josh Payne to Greg Brooks and Kathy Brooks, 10.424 acres (P21/914), Stallion Way, $150,000.

David Graham and Linda Graham to Alan W. Eubank, 2 Parcels, Highway 90, $240,000.

Anthony T. Kenney and Nancy Kenney to Eric A. Duke and Lakedith Duke, .407 acres (Lot 65), MacAfee Lane, $205,000.

Alfred Hishmeh and Jennifer Hishmeh to Kyle R. Hishmeh, Lot 7 (P6/325), Tick Ridge Road, $142,000.
Sept. 1, 2022:
Greg Raymer and Stacy Raymer to Travis Hudnall and Ashley Hudnall, 1.480 acres (P12/617), North Gillock Road, $119,900.

Estate of Betty R. Bailey, Maude T. Isenberg and J.S. Calvin Leech to Patrick W. Gaunce, .050 acres (Tract 2) P21/914, Stallion Way.

Fred Roman to Blane A. Smith and Carmen J. Smith, .193 acres (Lot 26), Brittany Lane, $15,000.

Christopher D. Knight and Elizabeth K. Knight to Zack Kender and Gail Kender, .6665 acres, Tracy-Antioch Road, $25,000.

James Clemmons and Diane Clemmons to Colton L. Satterly and Amanda Satterly, .885 acres, Mt. Pleasant-Etoile Road, $130,000.

James Clemmons and Diane Clemmons to Colton L. Satterly and Amanda Satterly, 17.20 acres (P21/937), Mt. Pleasant-Etoile Road, $130,000.

Michael L. Phillips to Michael L. Phillips Living Trust Dated March 8, 2017, .35 acres (P9/870), Highway 70.

Elfreda Lewis to Weston T. Inman, Lot 12 (P6/80), Needmore Acres, $25,000.

Mary W. Fye to Brandon Kerney and Amy Kerney, .451 acres (P13/543), Cleveland Avenue, $137,500.
Sept. 2, 2022:
Jonathan C. Kidwell and Martha E. Kidwell to Zachary P. Fisher and Jennifer M. Fisher, Lot 19 (P9/452), Autumn Ridge, $33,000.

Randall Trigg and Latokia Trigg to Dennis J. Trigg, Lot 2 (P8/54), East College Street, $50,000.

William Myatt and Port Vale Properties to Kirk M. Chadwick, .235 acres (P14/492), Cleveland Avenue, $70,000.