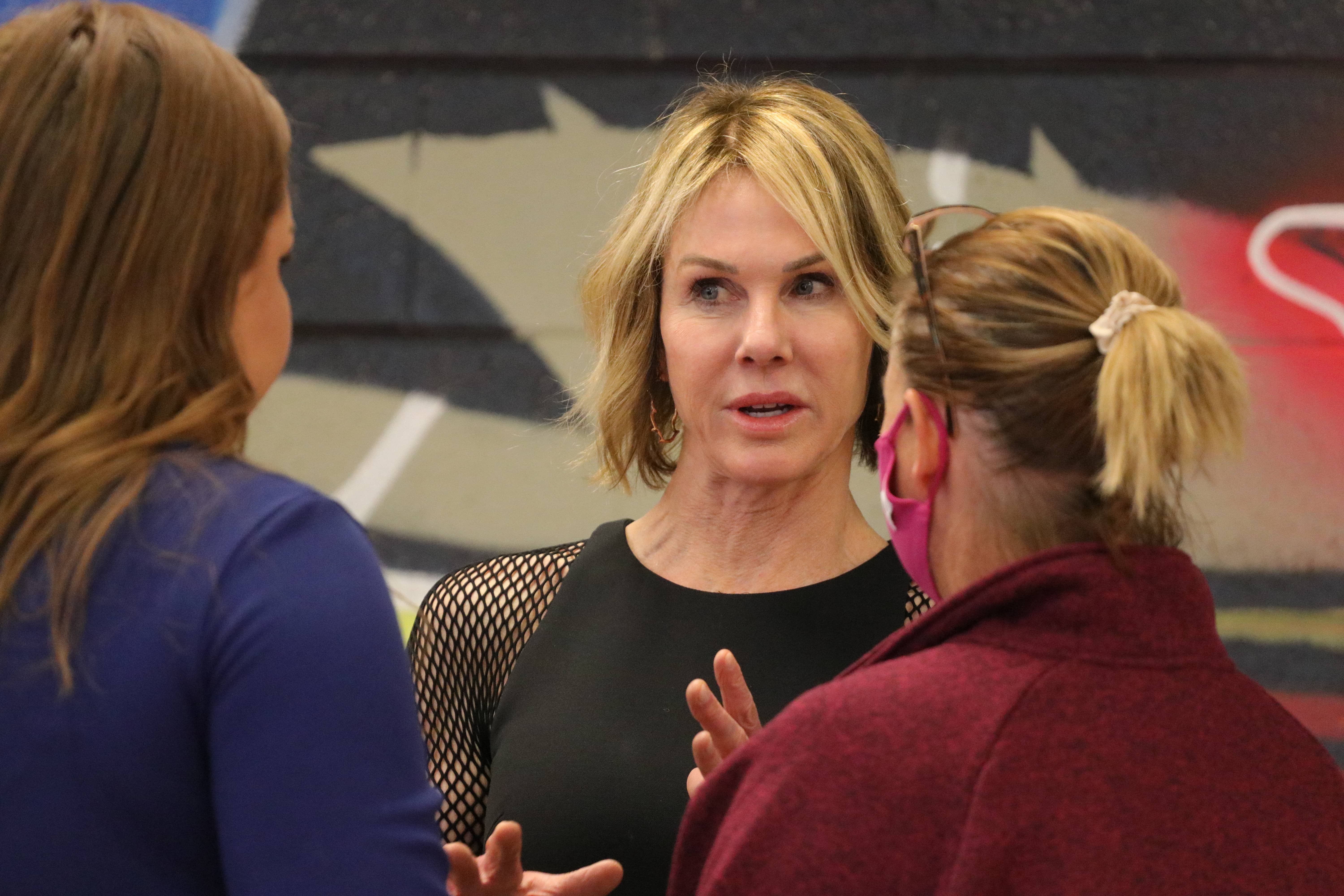 Kelly Craft, a Glasgow native and former United States Ambassador to the United Nations, speaks with Mallie Boston and Sonya Davis at the Boys and Girls Club of Glasgow and Barren County on Wednesday, Dec. 1, 2021. Craft spoke to folks at a luncheon at the club and later at her alma mater, Glasgow High School.
(BRENNAN CRAIN/WCLU NEWS)
GLASGOW, Ky. — Former United States Ambassador to the United Nations and Glasgow native Kelly Craft made an appearance in Glasgow Wednesday.
Craft was born and raised in Glasgow. She graduated from Glasgow High School in 1980.
"Just traveling throughout the world, there is no better place to come back to than home," Craft said. "Once I left the United Nations and moved home, the first place I thought about was home – that's Glasgow, Kentucky."
Craft has served in a few delegate positions. President George W. Bush appointed her in 2007 as an alternate delegate to the United Nations. Craft became the United States Ambassador to Canada in 2017.
"I have traveled the world, and I have seen everybody's dream is to come to America because it's a place where everybody's dreams can come true," Craft said. "It made me know, first of all, how proud I am to be an American, and the importance that we keep our country as a superpower because there is nobody double."
President Donald Trump appointed Craft to the ambassador's position in 2019 following Nikki Haley's resignation. Craft and her husband, Joseph W. Craft III, contributed more than $2 million to Trump's 2016 presidential campaign and inauguration, according to The New York Times.
The Crafts contributed to the Boys and Girls Club of Glasgow and Barren County. The check for an unknown amount was delivered Wednesday from her home in Lexington.
"We have made a contribution and it was delivered today," Craft said. "We are very excited to be a small part of an incredible organization here. We hope we will be allowed to participate on an even larger scale."
Craft spoke to a group at the club during a luncheon. She later traveled to Glasgow High School to speak with students and staff.
"There's always someone else who needs something that has less than you, and I think that's so important," Craft said. "It's a lesson for all of us to learn."
Craft's tenure as an ambassador ended in 2021 when President Joe Biden appointed another diplomat. The former ambassador provided insight into another political adventure, however.
Craft told reporters Wednesday she is considering a bid for Kentucky's 2023 gubernatorial race.
"It is something that I am seriously considering. It's a lot of prayer," Craft said. "What I want to do is do the right thing for my state. If, and when, I make the decision, it'll be a decision based upon partnering with every single person in the state of Kentucky."