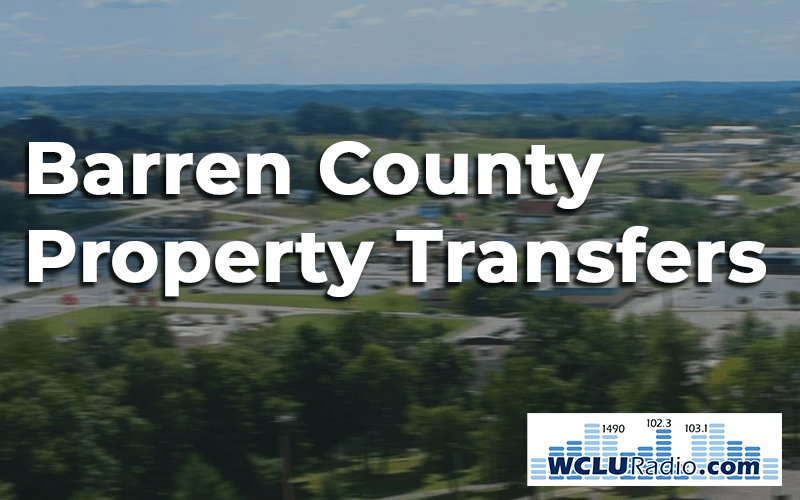 GLASGOW, Ky. — The following property transfers occurred during the week of February 22, 2021. Tax information is not reported when money is not exchanged. Such instances include foreclosures, master commissioner deeds, divorce settlements and transfers made within a family.
February 22, 2021:
Cheryl Berry (Master Commissioner), Christopher Shawn Haynes, and Tammy Haynes to Rosie Properties LLC, Lot 19, Woodhaven Subdivision.
Jessica Scott and Tyler R. Scott to Tyler R. Scott and Gary Scott, 0.4358 acres, HWY 70.
William Daniel read and Alysia Maria Read to Meredith Bradley Mansfield and Lynsey Alexandria Mansfield, 2 parcels, HWY 1318, $367,000.
Phillip D. Gearlds and Pamela S. Gearlds to Rodney Lee Sponhouse and Christy Lee Sponhouse, .502 acres, Haywood Acres Subdivision, $215,500.
February 23, 2021: 
Douglas Furlong and Paulette Furlong to Thomas E. Jr. Holmes and Janie Welsh Holmes, 1.36 acres, Smith Road #1, $2,794.
Sandra L. Whitehead, George E. Whitehead, Phyllis Jean Brandon, Gordon C. Brandon, Carlos W. Plumlee, and Helen H. Plumlee to Timothy S. Wilkerson, .575 acres, Finney Road, $167,500. 
Bani LLC to Uriel Ramos and Yuridia Diaz, Lot 16, Hi Haven Court, $58,000. 
Randy H. Matthews and Kimberly Matthews to Jason Lessenberry and Amy Lessenberry, 5.094 acres, J. S. King Road, $30,000.
February 24, 2021:
Gustavo Gonzalez to Carlos Angel Gonzalez, 0.187 acres, 10th Street, $50,000.
Andrew Quintin Karson Mosby to Trudy B. Hammer and Richard Lee Hammer, Multiple Parcels, Beaver Bay Subdivision, $209,000. 
Evelyn Windsor to Walter Bell, 0.343 acres, Brown Berry Road.
Garland R. Trulock and Anna M. Trulock to Betty Hammer, 1 tract, Kilgore Avenue, $85,000.
Patrick Ely and Janie Marie Ely to Brian Ernst and Kristine Ernst, 6.94 acres, Jenny Country Road, $31,500. 
Nikkia S. Frost and Joshua Logan Frost to Rachel Anglen and Ross Anglen, Lot 4, Whispering Wood Subdivision, $229,000.
James H. Richey and Olene Richey to Michelle Layton, .66 acres, HWY 63, $10,000.
Farm Ag. Sales LLC to Prosolutions LLC, 6.88 acres, Main Street East (HWY 70), $24,950.86.
Farm Ag. Sales LLC to Prosolutions LLC, .172 acres, E. Hiseville Main Street, $149,379.77.
Farm Ag. Sales LLC to Prosolutions LLC, 2 tracts, HWY 70, $832,708.67.
Wynona Young to Aaron D. Wallace and Holly C. Wallace, 2 tracts, HWY 252, $120,000.
February 25, 2021:
Estate of L.B. Fields to Rebecca Gail Thomas, 1.992 acres, Scottsville Road, $22,000.
Roscoe Saltsman and Carolyn June Saltsman to Anthony M. Jump, 2 parcels, New Bowling Green Road, $31,735.
Adam Houchens and Brandy Houchens to KBS Properties LLC, .320 acres (Lot #1), Linwood Drive, $155,000.
Don P. Cook and Robert Todd Morrison and Teresa Danyel Morrison, 17.207 acres, Powell Parrish Road, $90,000.
February 26, 2021:
Joie Meredith, Annie Clark, Mike Clark, and Woodford L. Gardner Jr. Trustee to Mike Clark, Annie Clark, and Woodford L. Gardner Jr. Trustee, 1.3 acres, Barren County, $18,500.
Melanie Gibbons Hyer and Charles Hyer to Grayson Clark and Taylor Clark, 0.727 acres, Poplar Springs Road, $8,500.
John Mott to The John Mott Declaration of Trust Dated Dec. 4, 2 tracts, Millstown Road.
Cory Dan Shelton, Carmila Paige Shelton, Woodford L Gardener Jr. Trustee, and Lura Jane Johnson to Cory Dan Shelton, Carmila Paige Shelton and Woodford L Gardener Jr. Trustee, 1.431 acres, Bow Trail.
Mary Lou Carey to Ricky Carey, Multiple Parcels, Barren County.
Alpine Slide Inc. to Ricky Carey, 2 tracts, Barren County.
Michael Christopher Landrum and Megan Elizabeth Fields Landrum to Jordan Kyle Henson and Lakesha Mae Henson, 0.962 acres, Brock Lane, $168,500.
Janet J. Emmett to Eric T. Sexton, 0.5 acres, Brock Lane.
Debra Leeann Mauk to Daniel Dale Mauk, 2.181 acres, Matthews Mill Road.