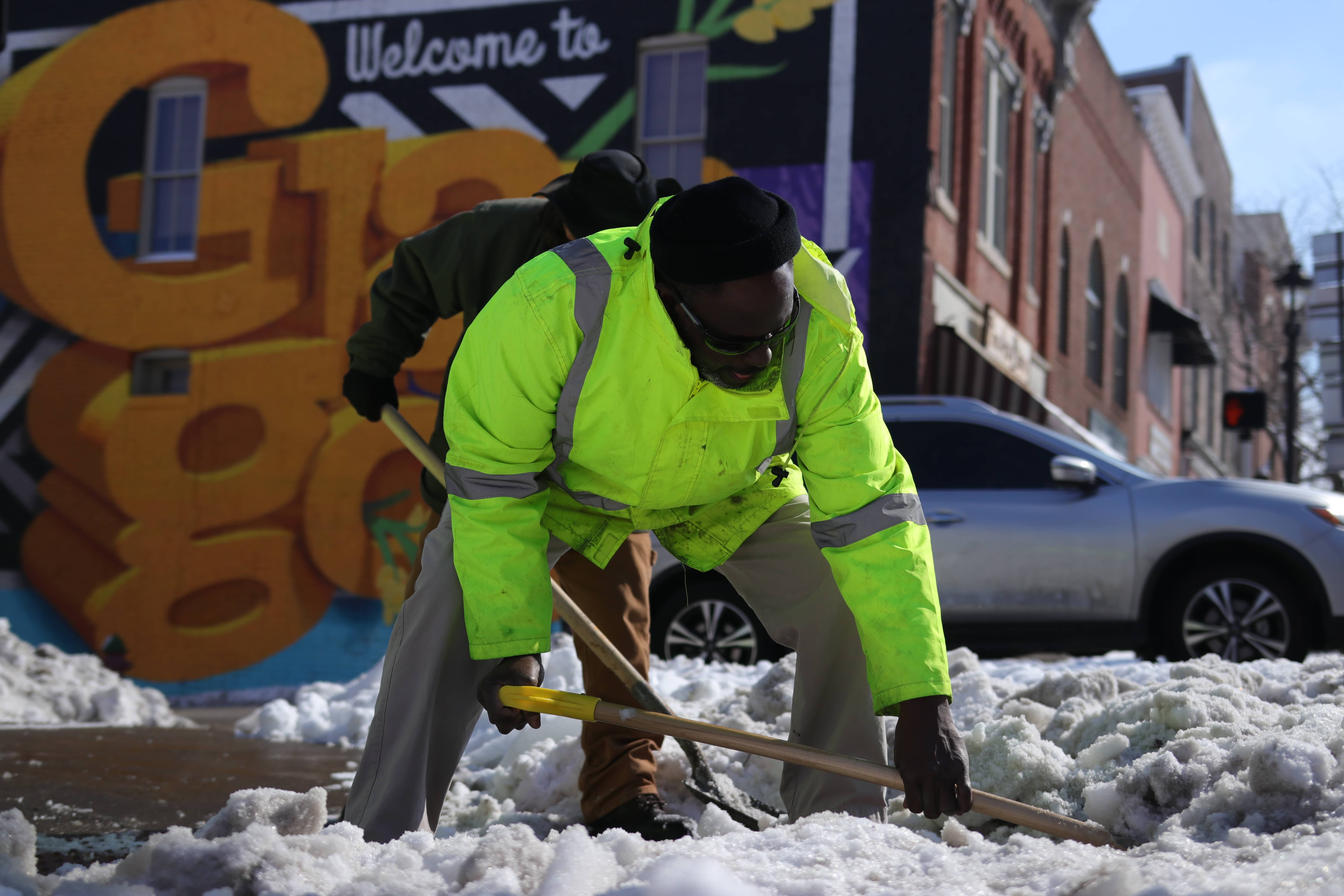 James Curry, a Glasgow Department of Public Works employee, shovels snow and ice from the sidewalk along North Race Street and West Main Street in downtown Glasgow on Feb. 19, 2021. Curry worked alongside two other crew members.
(BRENNAN CRAIN/WCLU NEWS)
GLASGOW, Ky. – The Glasgow Department of Public Works continues to clean city streets, sidewalks and public ways of snow that fell earlier this week.
When many tuck away to watch the snow fall, road crews and their tools go to work. That was the case this week when two large winter storms impacted the area with more than four inches of snow and ice precipitation.
"We've got like three different crews that we'd call in at different times and plow – some through the day, some through the night – just plowing and salting," said Director of Glasgow Public Works Roger Simmons.
All of Glasgow's streets are plowed. Simmons said extra salting and clearing efforts are happening throughout Friday.
"We were going back and apply some salt to hills and bridges and just trying to clean up areas," Simmons said.
Three crew members with the Department of Public Works were working Friday morning at the corner of North Race Street and West Main Street. The sidewalks across the city remain snow covered.
"I'm just glad to see the sun right now," said DPW crewmember James Curry.
The staff at the DPW continues to work. But most early mornings stopped after the precipitation. Most priority routes are in sufficient conditions to drive.
"We were in at two, three, four o'clock in the morning," Simmons said. "We try to time it when the snow hits."
Simmons said city residents should refrain from parking on city streets to allow plows the necessary room to collect and move snow.