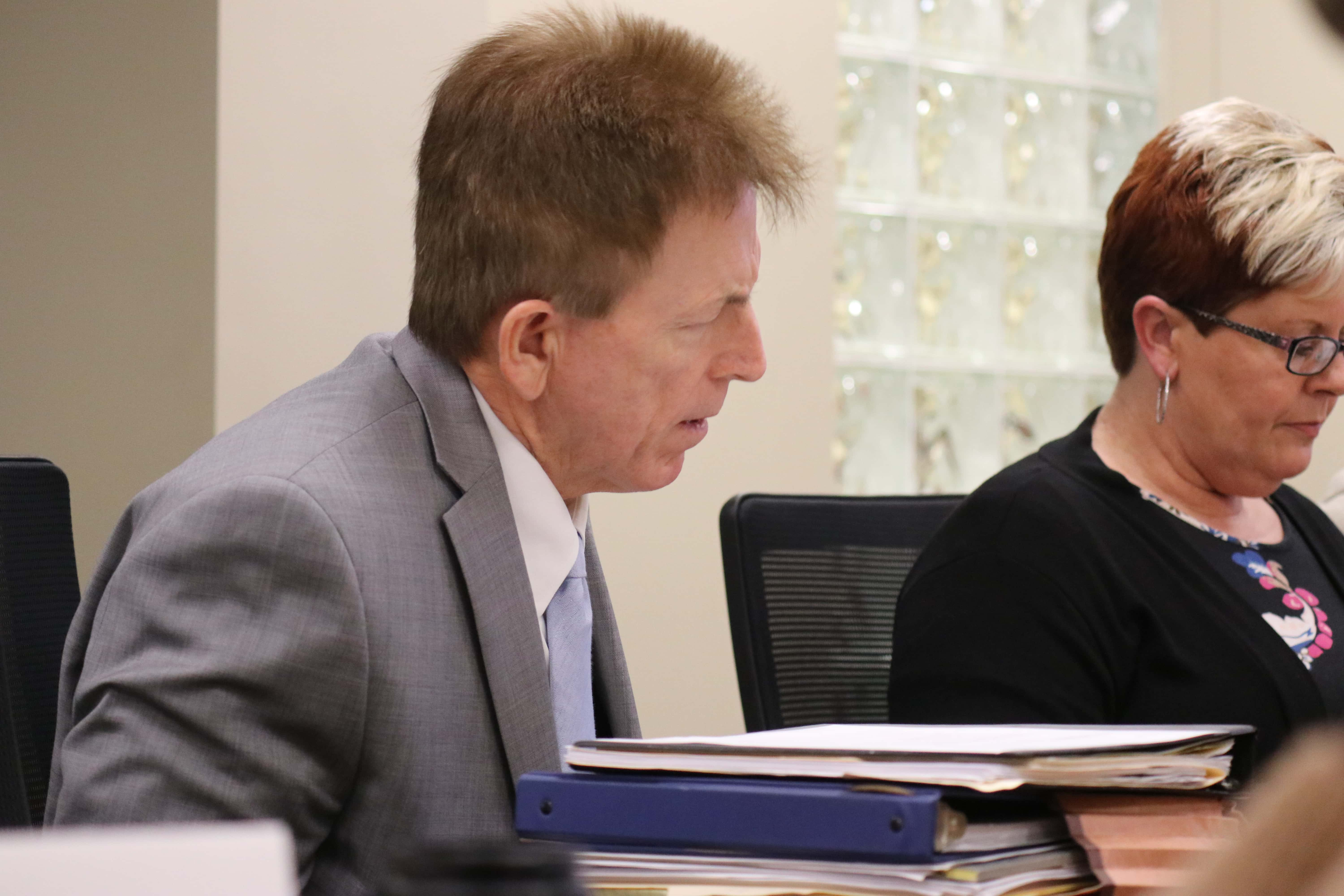 Ron Hampton, legal counsel for the Glasgow Electric Plant Board, studies a piece of paper during a meeting of the board on Tuesday, Jan. 28, 2020. Hampton told board members via Zoom Tuesday that he saw no issue with making changes to the proposed agenda despite the belief of the chairperson and secretary-treasurer.
(WCLU NEWS FILE PHOTO)
GLASGOW, Ky. – Members of the Glasgow Electric Plant Board spent nearly 30 minutes Tuesday evening discussing the possibility of adding two items to their agenda. The meeting was adjourned after the board failed to approve of the agenda's items.
The Glasgow Electric Plant Board continues to be in upheaval after a recent court ruling handed down by Circuit Judge John T. Alexander.
The board has spent much of the last several months in a stalemate regarding an illegal meeting held against Senate Bill 150, which has specific language regarding public meetings during the COVID-19 pandemic.
The other point of argumentation has dealt with board member DT Froedge's membership. Alexander ruled Froedge is a valid member of the board, despite the chairman's acknowledgment for several months.
In recent occurrences, Froedge has coupled his stance with board members Marlin Witcher and Glen Pritchard to shift the power of the board. Taylor is currently the chairman and Libby Short is the secretary-treasurer, which means they often hold the final power over the board's decisions.
The meeting Tuesday was no different.
Froedge moved at the beginning to add two agenda items – election of officers and addition of external legal counsel.
Both additions failed, even with most of the board's approval to add those items.
"We don't have the ability to change the rules at our level if it's contradicting with the current law," Taylor said.
Short also cited possible irregularities with that decision. She read from a Kentucky League of Cities' interpretation meetings, which is based on SB 150 and a recent ruling from the Kentucky Attorney General's Office.
The website said, "only those subjects listed on the meeting agenda can be discussed."
"But that one line there validates that we need to stick to the agenda tonight," Short said.
Ron Hampton, legal counsel, said he saw no indication that he AG's opinion cites agenda changes. However, he said Taylor would have the ultimate power to consider the additions or not.
"Whether the League of Cities interpreted it, that notice business – I do not find anything in there about the agenda," Hampton said.
"I guess you make that decision, but I don't see anything prohibiting it," Hampton said. "But, you know, y'all just have to decide how you want to proceed with what Libby's cited to you there."
Taylor said he felt the board should be cautious of its decision because of prior mistakes, which cost the board a training session and a legal issue.
"Well, like I was saying, it's probably best to err on the side of caution," Taylor said.
Board members took a final vote to consider Tuesday's agenda, and the motion failed because Pritchard, Witcher and Froedge declined to accept it.
Froedge and Short exchanged an argument before the meeting was adjourned.
"Are we back to this total childishness that we cannot have a meeting to conduct business all because we cannot even approve an agenda? Y'all come on," Short said.
"Libby, when the majority of the board can't vote and make a decision, then you're not going to have a meeting," Froedge said.
"Yes, DT. But you know what? If you want to make decisions, make decisions about things that matter – not the agenda."
"We're trying to," Froedge said.
Because the agenda could not be accepted, the meeting was not held.
A special meeting has been called by Froedge, Witcher and Pritchard. It's set for Monday, Aug. 3 at 10 a.m. via Zoom. The agenda lists the exact items that were not considered for addition on Tuesday's agenda.
A formal notification from Taylor or Short has not been received as of Wednesday at 3 p.m. Per KRS 96.770, the chairperson or secretary-treasurer must give notification of the meeting.