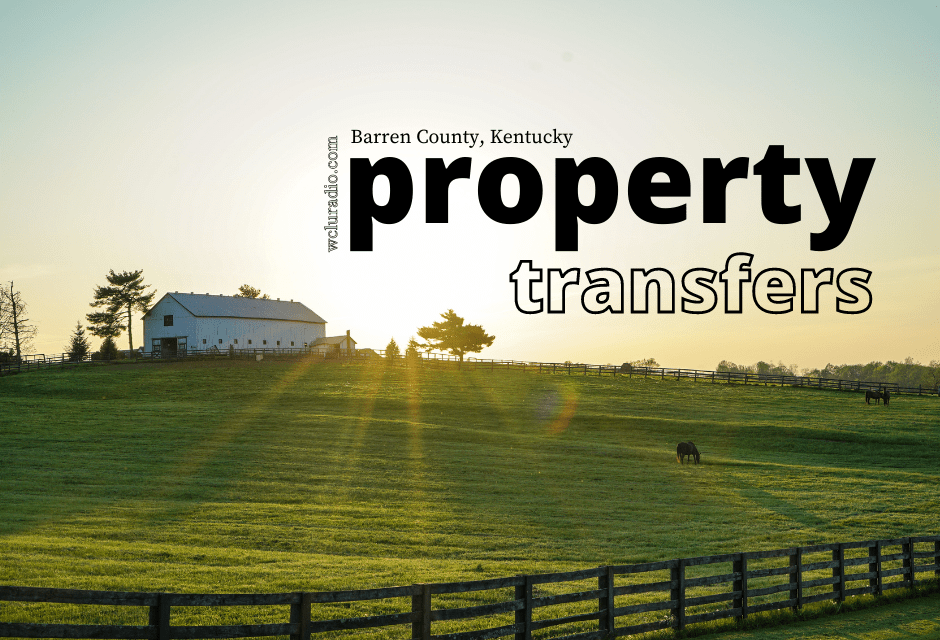 GLASGOW — The following property transfers were recorded at the Barren County Clerk's Office from Feb. 13 to Feb. 17, 2023. Tax information is not reported when money is not exchanged. Such instances include foreclosures, master commissioner deeds, divorce settlements and transfers made within a family.
Feb. 13, 2023:
The Vicki E. Wilson Revocable Trust Agreement to Michael G. Wilson, Lot 62, Happy Landing Lake Development.

Tammy Wilson to Shawn Houchens, .60 acres, Highway 70, $67,266.77.

Kelly Hawthorne and Darhonda to Jeanne Hester, 2 Tracts, Kentucky Highway 1297, $205,000.

Agnes S. Revers and Katherine A. Revers to KASR Bridge Trust, .97 acres, Whispering Woods Road.

David Holder and Barbara Holder to Joe W. Montgomery and Felicia Montgomery, .605 acres, Austin Boat Ramp Road.
Feb. 14, 2023:
Estate of Samuel B. Judd to Eric S. Elkins and Whitney R. Elkins, 1.042 acres, Highway 31-E, $185,000.

Joshua Neal and Katie Neal to James Wyman and Aubrey Wyman, 6.580 acres, Lick Branch Road, $265,900.

Christopher P. Garten and Elizabeth G. Garten to Barren Holdings LLC, Lot 13 (P12/141), Valley on the Barren Subdivision, $230,000.

Cheryl Berry Master Commissioner, First Star Bank National, Mark Miller, Kenneth M. Miller, Estate of Thelma M. Miller, Timothy Miller, Timmy Miller, Timothy S. Miller, Betty Miller, Betty J. Miller, County of Barren, Barren County, RTLF-KY LLC, Unknown Spouse of Timothy Smith Miller, Jerry A. Botts Real Estate and Auction Company and US Bank National Association to US Bank National Association, 2 Tracts, Temple Hill Road.

Robert E. Morris and Tiffany L. Morris to Buckeye Holdings LLC, 2 Tracts, Tick Ridge Road, $50,000.
Feb. 15, 2023:
Brent E. Claywell and Tylia M. Claywell to Ryan Daniels, Chelsie Ward and Richard G. Ward, Multiple Tracts, Highway 1297 (Old Bowling Green Road), $365,000.

Melissa A. Sies, John L. Sies Jr. and Scott Basil Trustee to Melissa A. Sies, John L. Sies Jr. and Scott Basil Trustee, 32.53 aces, State Highway #70.

Windell Sturgeon and Wanda Sturgeon to James Watts and Karen Coats, .934 acres, State Highway 685, $265,000.

Penny Crews to Harold Childers, .68 acres, Barren County, $8,000.

Samuel A. Brown to Andrew L. Brown, 2 Parcels, Matthews Mill Road, $160,000.

Donna Bartell to Peggy B. Groce, Tract with Exception, Old Salem Church Road, $18,000.

Glenn Shelton and Debra J. Shelton to James N. Chambers and Kateland A. Chambers, General Warranty Deed, 2 Tracts with Exception, $1,075,800.
Feb. 16, 2023:
Russell Smith and Brenda Smith to Unknown Cemetery, Block-DD, Lot 13, Graves #C-1, 2 and D-1.

RJ Fetsch Properties LLC to Zatt Properties LLC, .117 acres, South Green Street, $87,000.

Charles Crews and Debra M. Crews to James I. Mabe and Gloria D. Mabe, Lot No. 25, Goodnight Terrace Road.
Feb. 17, 2023:
Estate of Kimberly G. Ritter to Larry Bunch and Linda Bunch, .23 acres, Highway 90.

Melissa S. Richardson, Melissa Jewell and Kenneth Richardson to Shawn Houchens, Lot, Owen Street, $90,000.

Patrick Thomas and Janet O'Brien Revocable Living Trust, Patrick T. O'Brien and Janet M. O'Brien to Stanley R. Standlie, .992 acres, Barren County, $75,000.

Thomas C. Young and Stephanie R. Young to Christy Stinson and Michael Stinson, .14 acres with easement, Balmoral Way.

Kayla A. Bailey and Brendan Brown to Brandon Bailey and Marie Bailey, Lots 16, 17 & 18, Howard Addition, $129,000.

Michelle G. Wheeler and Lynn Wheeler and LAM Investment Properites LLC to Barren River Investment LLC, .74 acres, Highway 90, $1,000,000.

Mark Kuzma, Sheila Kuzma and Edith Duvall to KRW Investment Properties LLC, .315 acres, Cherry Street, $172,000.

Vickie L. Lindsey to Kaffey A. Crumpton, Lots 8, 9 & 10, Winchester Addition, $75,000.

Cave City Public Properties Corporation to Cave City Experience LLC, 2.875 acres, Right of Way along Interstate 65,

Brittian S. Edwards to Aaron Kerney, Lot (17,032 square feet), North Franklin, $70,800.

John P. Hishmeh and Rana Hishmeh to Rita Samaras, Lot 37 (.941 acres), Runnymede Real Estate, $11,000.

Michael Barrick to John P. Hishmeh, 2 Parcels, New Salem Road & Withers Street.

John P. Hishmeh and Rana Hishmeh to Mary L. Buckley and James T. Buckley, 2 Parcels, Walker Street, $100,000.

Matthew W. Smith and Kathryn Smith to Shannon Dicken, 8.00 acres, Poplar Springs Road, $60,000.

Karen R. Eaton, Karen Warren, Terry A. Eaton and Rita Coomer to Karen R. Eaton, Karen Warren and Terry A. Eaton, 4.809 acres, Shive Road,