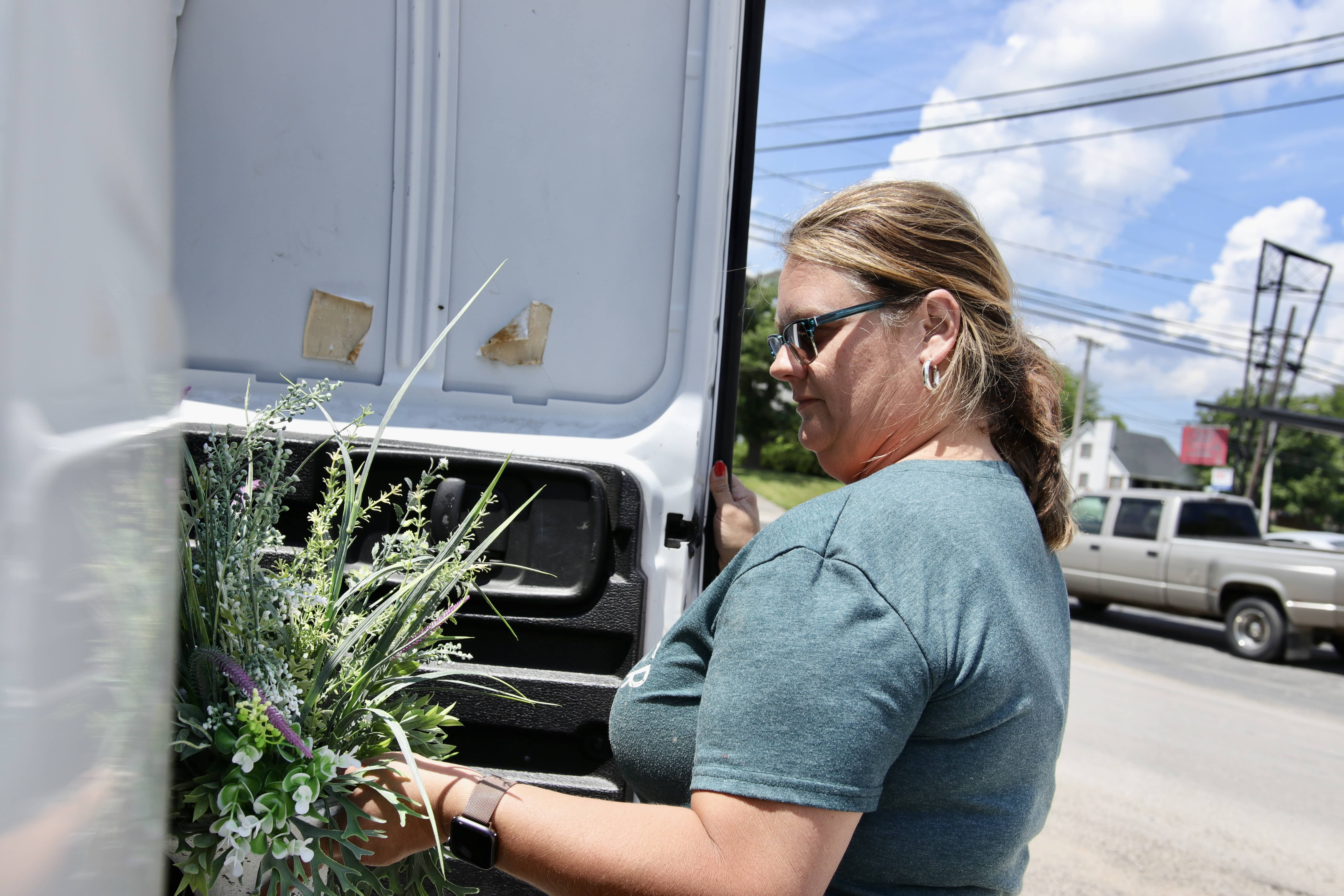 Joy Wilson, owner and operator of the Korner Shoppe in Glasgow, places flowers into the back of a van used by her business to transport merchandise to customers.
(BRENNAN CRAIN/WCLU NEWS)
GLASGOW — Effects of some of the most historic rates of inflation continue to be felt among consumers and business owners in Barren County.
Though its storefront is marked by the flowering display of décor and home ornaments, the Korner Shoppe has felt the recent rise in costs to supply those products to its customers.
Joy Wilson, owner, said the continued hikes in gasoline prices has shifted her business model. She now charges a delivery fee to cover costs associated with toting the shop's flowers to customers.
"I've got to do something because I can't keep eating that cost myself," she said.
Merchandise inside the store also saw recent markups – a move that translates shipping cost increases to sellers and then customers. Wilson said costs have tripled and quadrupled in some circumstances, according to information obtained from her suppliers.
Delays have also impacted the small business.
"We like to use colored vases a lot of times," she said. "We are having trouble getting those. I don't why that is. And the ones that we can find are ridiculous prices."
Much like Wilson's increased gasoline bill, Frankie McCoy's towing and vehicle repair business has seen a drastic increase in its operating expenses. McCoy Motors responds to vehicle crashes and other incidents necessitating the use of a tow truck. And it comes at a price.
"Our business hadn't dropped off that much. We have had to adjust our prices – what we charge," he said. "You still don't know if you're charging enough to actually make a profit due to the prices of gas changing at such a rapid pace."
Gasoline prices jumped 36 cents this week, according to AAA East Central's Gas Report. The unit cost of crude oil was last reported to be $120 per barrel.
McCoy said gasoline and diesel fuel are the main expenses for his business.
"In the last six months, it's really tripled if you think about it," he said. "So, yeah, it's made a huge impact on us."