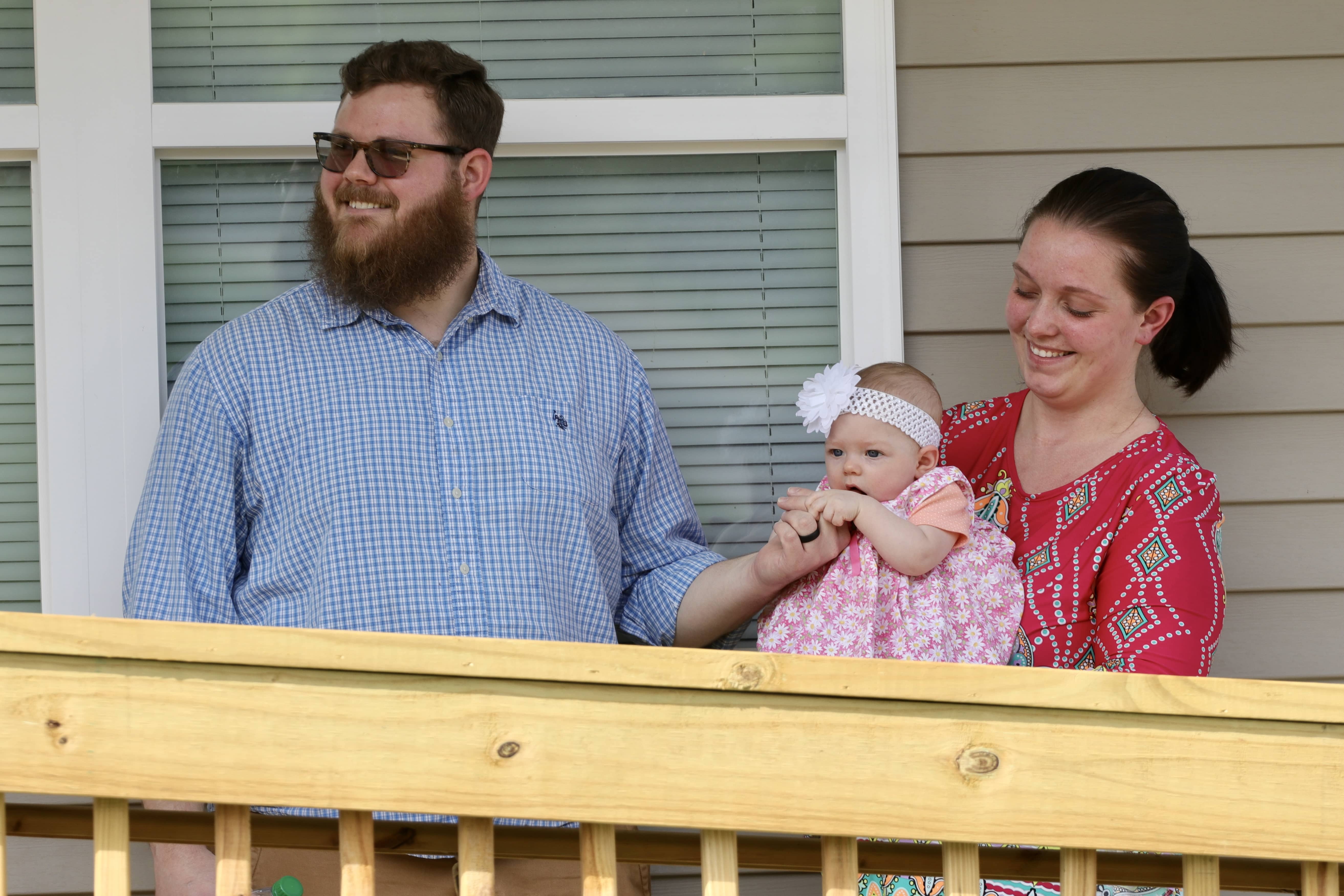 Michael, MaKayla and Oakleigh Jernigan look onward toward a crowd gathered at their Ford Drive home, which was unveiled Thursday, May 12, 2022. The family was the latest to purchase a Habitat for Humanity home.
(BRENNAN CRAIN/WCLU NEWS)
GLASGOW — A family of three was given the keys to their new home Thursday.
The home is the newest installment of a series of abodes being constructed along Ford Drive. The local Habitat for Humanity chapter constructed the home.
"Well, I just love helping people," said Steve Jones, the director for the local chapter of Habitat for Humanity. "And in this case, we help people that help themselves."
The homes are built by volunteers of the non-profit organization. Materials are often donated. Knight Mechanical, for example, funded the most recent home's HVAC ductwork and installation.
Once the homes are finished, they are sold to prospective buyers at the cost to construct them. The non-profit breaks even, which supports its goal to provide families with affordable housing.
But how does someone go about buying one of the Habitat for Humanity homes? It's simple.
Prospective homeowners must apply to be considered for the homes, Jones said.
Michael and MaKayla Jernigan married in May 2021. The two applied to get a Habitat home after hearing a radio advertisement. They were notified of their acceptance last November.
"After that an impossibility became a reality," said Michael Jernigan.
The homes are sold to buyers interest-free and do not account for appraisal or other common residential purchase costs.
The family welcomed a baby girl, Oakleigh, last December. She cooed while her mother held her during a ribbon cutting at the home.
"It's been a journey, but it's been awesome," MaKayla said. "It's something I never imagined we'd get."
Prospective homeowners can access applications by emailing hfh@glasgow-ky.com or by picking an application up at the Habitat for Humanity ReStore, which is located at 506 W. Main St. in Glasgow.
Applicants are subjected to an income and criminal background inquiry.
The local chapter hopes to construct five more homes along the Ford Drive and to later use a plot of land donated along North Franklin Street.
"When we fill these up, we'll start looking for land again," Jones said.