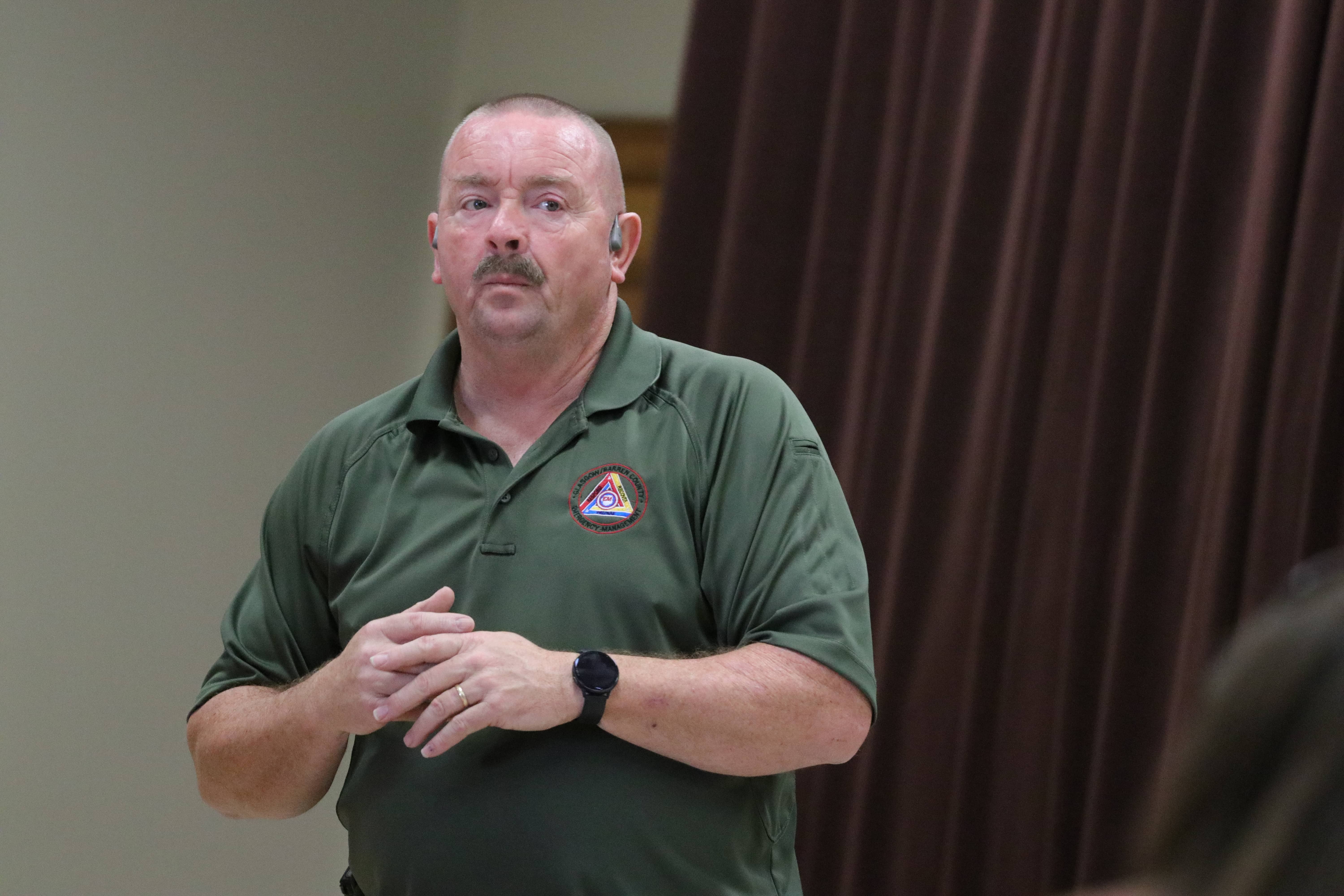 Tracy Shirley, Director of Glasgow-Barren County Emergency Management, speaks to a group gathered at Barren County's University of Kentucky Extension Office Dec. 20, 2021. Shirley spoke regarding storm response following a tornado in Barren County Dec. 10, 2021.
(BRENNAN CRAIN/WCLU NEWS)
GLASGOW — Emergency warning sirens within the city limits of Glasgow undergo testing each day at noon.
Tracy Shirley, Director of Glasgow-Barren County Emergency Management, spoke to the Glasgow City Council Monday evening. He said sirens are on a "dry rotation" every day at noon.
A "dry rotation" is a brief wale of the siren before it stops. It is not a complete whirl sound.
"This dry rotation does two things — one, it helps us and the public both," Shirley said.
Shirley described the need for locals to ensure sirens work near their homes.
"We do ask the public and everyone, if by all means your siren does not go off, let us know," Shirley said.
Shirley said emergency management officials receive reports when those sirens are tested. Sometimes a report may indicate no issues with the siren, but sometimes issues are not detected.
"We don't see every siren," Shirley said. "All we get back is a radio report."
Warning sirens are tested annually. That's usually the time officials see whether sirens work or not.
In other news, the council reappointed a handful of citizens to boards and committees. One board appointment put forth by Mayor Harold Armstrong failed.
DT Froedge, the chairperson and a board member of the Glasgow Electric Plant Board, was put forth for reappointment. He was appointed by former mayor Dick Doty.
Five council members voted in dissent to Froedge's appointment. Those included Joe Trigg, James "Happy" Neal, Wendell Honeycutt, Patrick Gaunce and Chasity Lowery.
Froedge's time on the board lasts through Jan. 31. The mayor must put forth another appointment.
Holly Alexander, Jeff Harper and Cody Meek were reappointed to the Plaza Theatre Advisory Board. Ernie Myers was appointed to the Renaissance Steering Committee.
The council unanimously approved a resolution for the city to apply for FEMA assistance. The grant will be used to purchase a breathing air system for the Glasgow Fire Department.
A closed session was held. The council's agenda said acquisition or sale of real property would be discussed. The council returned with no action from the closed session.
"That will come up at a later date," Armstrong said.