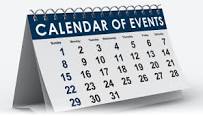 CHURCH AND COMMUNITY ANNOUNCEMENTS for Tuesday, July 20, 2021
Pleasant Point Missionary Baptist Church will have revival services at 7PM each night. Brother Doug Copas is the pastor and Eutre Shirley is the helper. The church is located on Highway 249 near Cooktown.
Peters Creek Missionary Baptist Church in Lucas will have revival services at 7PM nightly. The evangelist is Bro. Larry Lowe. Bro. Jamie Thompson is the pastor. Everyone is invited to attend.
Applications are being taken for CASA of South Central Kentucky, Barren County new advocate training. Apply online at www.bit.ly/casa_apply.  For more information call Steve Jones 782-5353. Deadline to register is this Friday, July 23.
Metcalfe County Youth Football Camp will be August 2 through August 5 from 5:30pm to 7:30PM at the Edmonton Memorial Park. The cost is $15 per camper and $5 for each additional sibling. This is for age's incoming kindergarten through 6th grade. Registration is due Friday, July 30.
 The Hornet Hustle, 1st Annual MCMS Lady Hornet Run/Walk 5 K Event has been rescheduled for next Friday, July 30 at 9PM at the City Park.  Wear your glow sticks.  Registration forms are available at the Metcalfe County Middle School and www.metcalfeschools.com .
Avenue Church, 315 Columbia Avenue in Glasgow will be hosting a Back to School Clothing Giveaway this Saturday, July 24 from 9:00-12:00. Children in grades preschool through high school will receive clothing and a backpack.
Allen Lodge #24 F&AM will host their annual Masonic Picnic at the Houchens First Store this Saturday, July 24 at 6PM.
 Meet the Hornets will be held on Friday, July 30 at the Football Field.  Carnival Games from 4 to 6:45PM and the Athlete Introductions will be at 7PM.   Kid Wristband is $10 which includes all activities and contests and the adult's contests fee is $10.  Proceeds benefit the Metcalfe County Football Program.
 Household Hazardous Waste Collection Day in Metcalfe County is Saturday, July 31 from 8AM to 1PM at the recycling center. Please no trash. For more information call 432- 3496.
Edmonton Metcalfe Volunteer Fire Department Splish and Splash Back to School Bash will be held on Saturday, July 31 from 12 to 7PM at the Fire House. There will be Dunk Tank, 15ft Tinki Net, Dry Slide, 20 FT Wet/ Dry Slide and Small Combo Wet/Dry. The event is free for kids but they must have adult supervision. Hot dog and chips will be available for $5. Donations will be accepted.  For more information call Katlyn Clemmons at 646-8244.
Sulphur Well Homecoming will be held on Saturday, August 14 and Sunday, August 15.  Activities include music, kids games, fireworks, car and truck cruise in, duck race, tractor and motorcycle cruise in and on Sunday there will be a worship service at 11AM. For more information or for duck adoptions call Terry Edwards at 528-4225. Bring your lawn chair.
 Open enrollment is going on now for Glasgow/Barren County Head Start a free pre-school program for 3 and 4 year old income eligible children. Transportation will be available for the upcoming school year. Submit a preliminary application by visiting www.casoky.org or call 270-651-2419 to schedule an appointment or obtain additional information.
Down Syndrome of South Central Kentucky, 23rd Annual Step Up for Down Syndrome will be at the Bowling Green Ballpark on September 18. Gates will open at 10:00 am and walk begins at 11:30 am. Whether you have Down Syndrome, know someone who does, or just want to show your support, take the first step and donate or register today as we unite for a common cause and raise funds. To get started, visit www.ds-stride.org/dsskystepup and select the "REGISTER" button to start a team, join a team or register as an individual. If you can't attend but would like to make a donation, please select the donate button. Registration Fees with t-shirt is $20, without t-shirt is free.
Your local DAV Chapter 20 will provide you a free ride to Robley Rex VA hospital or any other VA clinic in the Louisville. These runs are made on Mondays only so be sure to schedule accordingly.  If you need a ride call 270-749-4907 to confirm your appointment and ride there.
T J Samson offers a Bariatric Surgery Seminar on the first Monday of each month hosted by Patrick Klapheke, MD.  For more information call 659-5945.
Edmonton- Metcalfe County Chamber of Commerce is selling the 2021 Metcalfe Historical Christmas porcelain ornaments.  They are also selling coffee mugs. The price is $10. Get yours today!
T J Samson Stroke Ahead Support Group will meet each Tuesday at 4:30PM. This is for people who have had a stroke or suffered some other type of brain trauma.  For more information call Emily Grinstead at 659-5650.
Highland Hills Church has a food pantry every Wednesday from 4PM until 6PM and Saturday 9 to 11AM. Anyone that is in need of food may come. The church is located on Broadway in Glasgow.
Childbirth prep and newborn care classes are in the T J Samson Community Hospital, 4th floor classroom. Call Megan Coulter at 651- 4105 to register.
T J Health offers a bereavement support group that meets the third Monday of each month from 2 to2:30pm.  If you would like to attend please call Loretta Boone at 651-4430.
Glasgow-Barren County Family Resource and Youth Services sponsor a grandparent support group on the third Friday of each month from 11AM to 1PM. For more information call Tammy Lindsey at 651-1327.
The DAV will assist the Disable Veterans with their claims each Tuesday from 8AM to 12noon at the Lera B Mitchell Clubhouse.
The American Heart Association Adult CPR/First Aid Classes are offered quarterly.  Please call the Continuing Education Department at T J Samson Hospital, 651-4355 for dates and times. Also Health Screenings are offered at the T J Samson Continuing Education Department.  Call 651-4355 more information.
Jamming on the Porch is a fee public jam session Thursday nights at The Bookstore in Horse Cave from 6 to 9PM. Bring your acoustic instrument and join in or just enjoy the music. For more information call 218-0386.