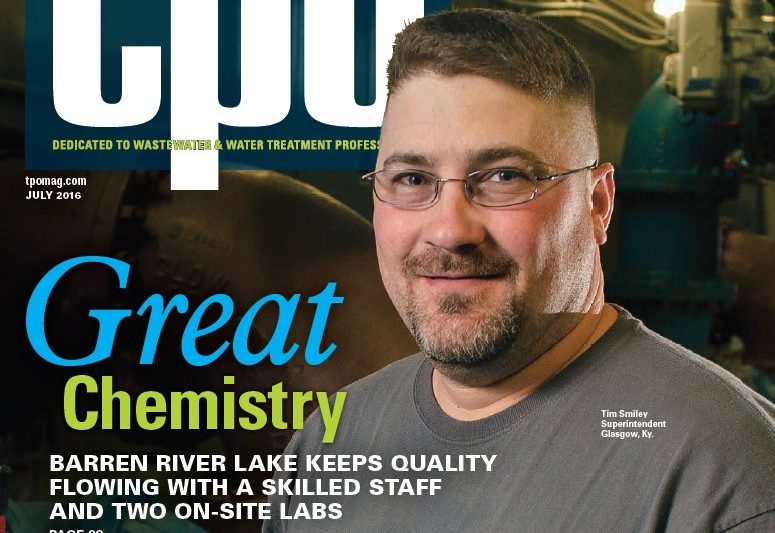 Tim Smiley,
the superintendent of the Glasgow Water Company's Barren River Lake Water Treatment Plant, was recognized as the 2020 recipient of the Operator's Meritorious Service Award. Smiley has worked with the GWC for 24 years.
(SUBMITTED BY GLASGOW WATER COMPANY)
GLASGOW, Ky. – The Kentucky/ Tennessee section of the American Water Works Association recognized Glasgow Water Company's treatment plant superintendent with the 2020 Operator's Meritorious Service Award.
Tim Smiley, the superintendent of the GWC's Barren River Lake plant, was recognized with the award for outstanding accomplishments and service in providing quality water supply to the public and his dedication to leadership in the water industry.
Smiley is a certified Class IV Water Treatment Plant Operator and Lab Analyst. He began employment with the GWC 24 years ago.
"We have a great staff. All of our operators hold college degrees. Most of them are dual certified in that they are a Class IV Water Plant Operator, but they are also certified lab analysts," said Scott Young, GWC manager. "A lot of people don't know, but the Glasgow Water Company is one of the handful of state-certified microbiology labs in the state. We do the biggest portion of our testing in house."
The GWC credits many of its recent accomplishments to Smiley's work.
"For example, in 2020 the GWC was recognized by the Kentucky Energy and Environment Cabinet, Division of Water for meeting the Area-Wide Optimization Program (AWOP) goals outlined by the U.S. Environmental Protection Agency," a GWC news release said. "Only 24% of Kentucky's water treatment plants qualified for the AWOP designation and the GWC has attained this achievement for the past 14 consecutive years."
The Barren River Lake Water Treatment Plant was awarded the Microbial AWOP Champion Award in 2019 and 2020. The award recognizes Kentucky's top drinking water treatment plant for microbial removal and three-year compliance record performance.
Other  accomplishments include 2020 and 2018 Best Tasting Water in Kentucky Award  presented by the Kentucky Rural Water Association; 2019 Best of the Best Tap Water Taste Test Award presented by the Kentucky/Tennessee Section of the  American Water Works Association; 2015 Water Plant of the Year presented by the Kentucky Water Wastewater Operators Association; and a July 2016 cover  story featuring GWC's water treatment plant operations published in the national  water industry