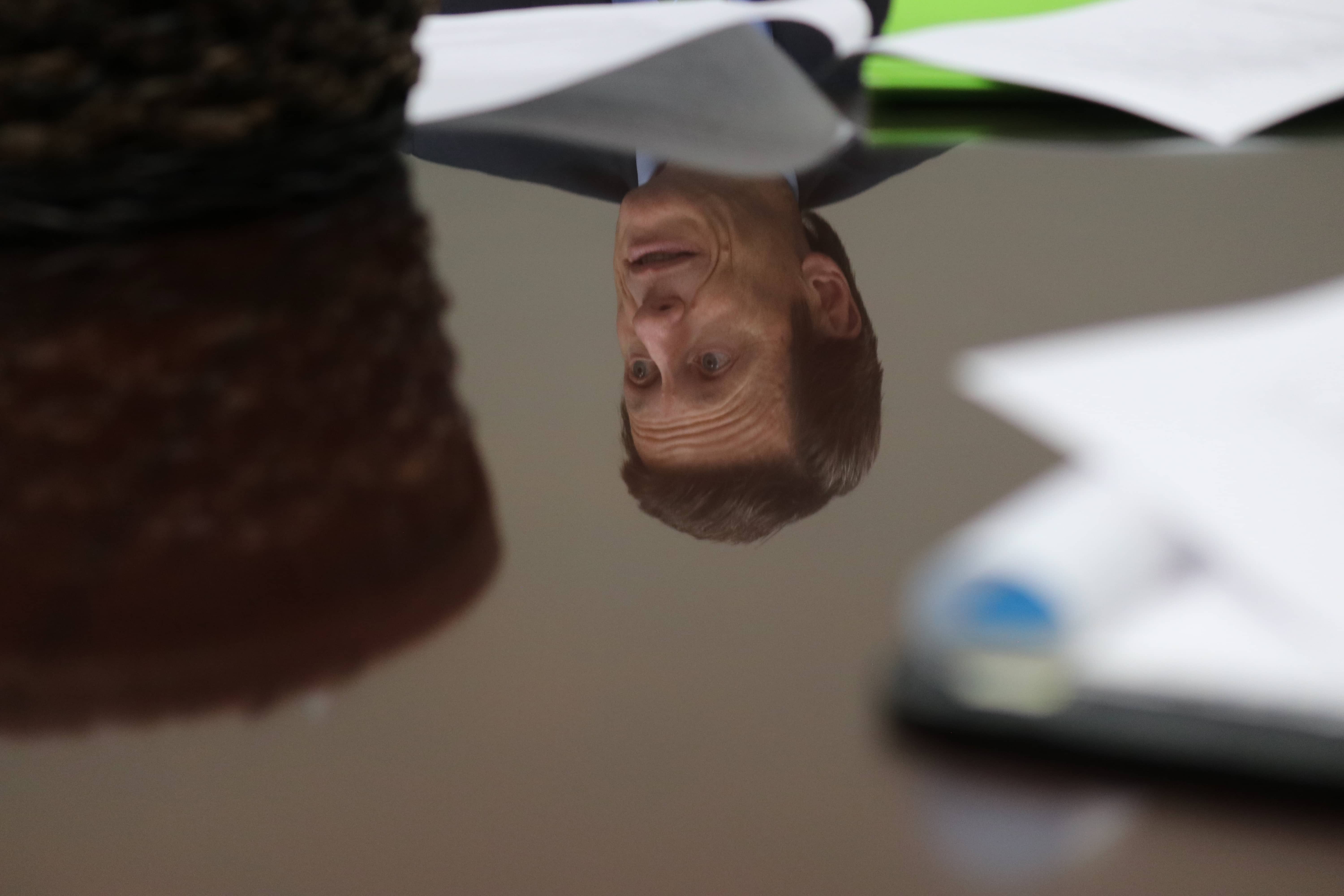 Terry Bunnell, chairperson of the Strategic Planning Committee, speaks during a meeting of the committee at the Peoples Bank on Thursday, Nov. 21, 2019. Bunnell's reflection is shown in the conference table.
(BRENNAN CRAIN/WCLU NEWS)
GLASGOW, Ky. – After months of delay due to the coronavirus pandemic, the Kentucky League of Cities will unveil the strategic plan for Glasgow throughout three meetings on Tuesday.
The Glasgow City Council hired KLC several months ago to complete a review of the city and offer a plan. That plan "is a look at Glasgow."
Terry Bunnell, chairperson of the Strategic Planning Committee, said he has not seen the entire plan, but he has noted some aspects of it.
"This can be a springboard – a basis to use to develop in different areas and different directions," Bunnell said. "It is not the solution by no means."
The committee held five listening and design sessions last fall with community members and area youth. The data collected from those meetings was used to devise the comprehensive version of the plan.
Participants gathered in several groups during those sessions to relate and review information pertaining to topics like entertainment, housing and economic development.
Much like those groups, committees will be formed as subunits of the Strategic Planning committee to carry out goals set forth in the strategic plan.
"There's a lot involved in this," Bunnell said. "Again, the engagement is what it takes. It's going to take effort. It's going to take a lot of effort because this is a comprehensive plan."
Tad Long and Bobbie Bryant continue to lead the project they began several months ago. The two have presented to the committee and led the listening and design sessions. They also presented preliminary results of those meetings earlier this year in a "Heard Ya" meeting, which allowed people to understand what would later be in the final plan.
Due to COVID-19, the presentation has been delayed by several months.
The plan will be presented at Lera B. Mitchell Clubhouse in Glasgow on Tuesday, Sept. 15 at 10 a.m., 3 and 5:30 p.m. Bound copies of the plan will also be available.
The Clubhouse is located at 1214 S. Green St.