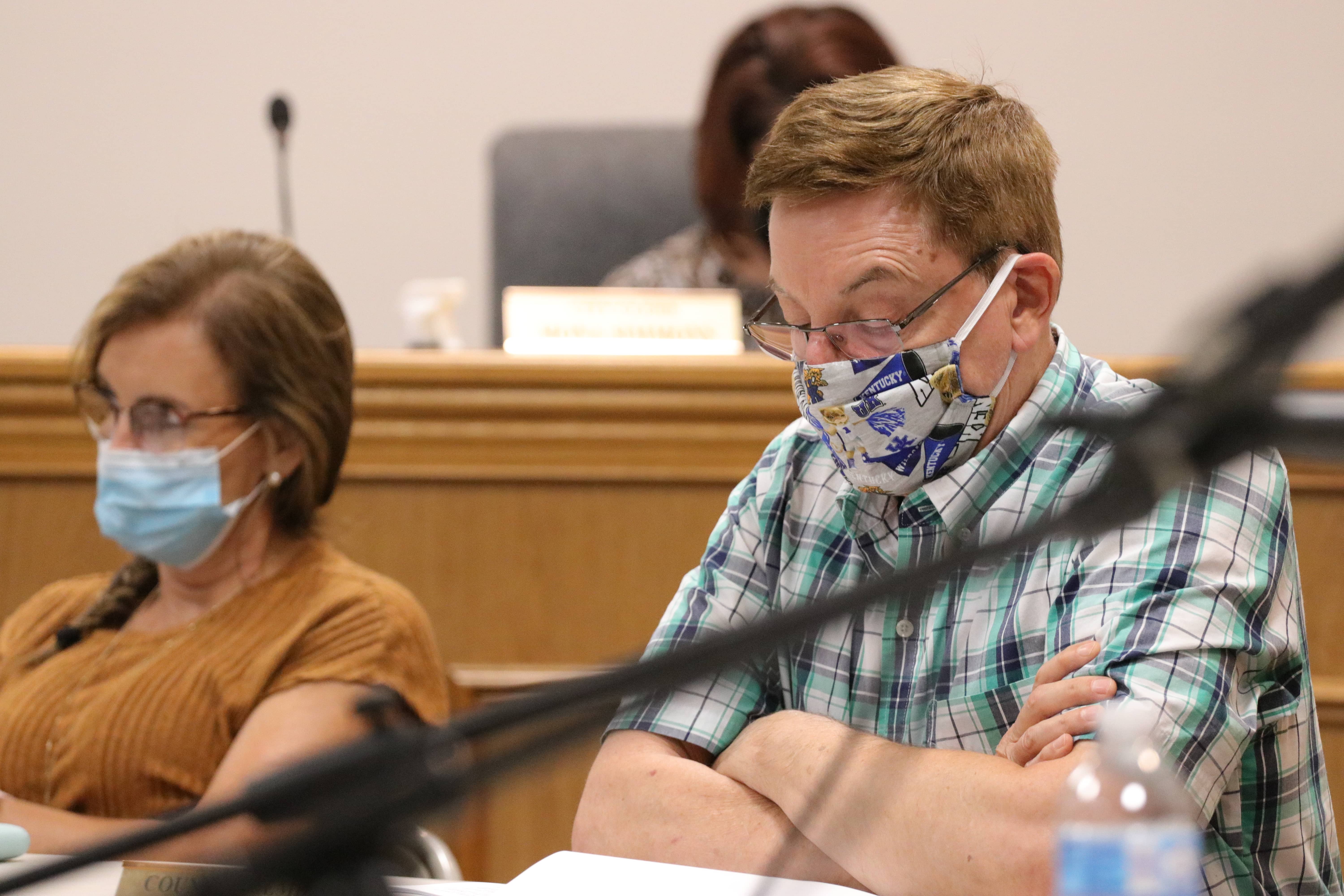 Wendell Honeycutt, the chairperson of the Glasgow City Council's finance committee, examines an agenda at a meeting of the council on Monday, Sept. 14, 2020.
(BRENNAN CRAIN/WCLU NEWS)
GLASGOW, Ky. – Employees within the city limits of Glasgow will see an increase in the occupational license fee rate they pay on their earned wages, which begins next year.
The Glasgow City Council moved forward with an increase in the payroll tax, which shifts the tax from 1.50% to 1.75%.  The new rate goes into effect on July 1, 2021.
The finance committee agreed that the rate increase should be delayed, especially since the coronavirus pandemic has affected so many that pay the fee.
Another stipulation of the committee's deliberations was to allocate 1% of net profits and license fee collections to the Glasgow Economic Development Loan Fund. The fund is used to issue loans for developing business in Glasgow.
The council heard the second reading after the first reading on Aug. 24.
Councilmembers James "Happy" Neal, Joe Trigg, Patrick Gaunce and Marna Kirkpatrick voted no to the increased rate. Those same members voted no to the ordinance's first reading.
An attempt to table the vote failed at the Aug. 24 meeting of the council. Some councilmembers said they had not had enough time to examine the rate, thus those members wanted more time to consider it. However, the vote was 6-6 and failed.
In other news, three firefighters were sworn in by Mayor Harold Armstrong. The firefighters included Jordan Keen, Tyler Dubree and Bo Turner.