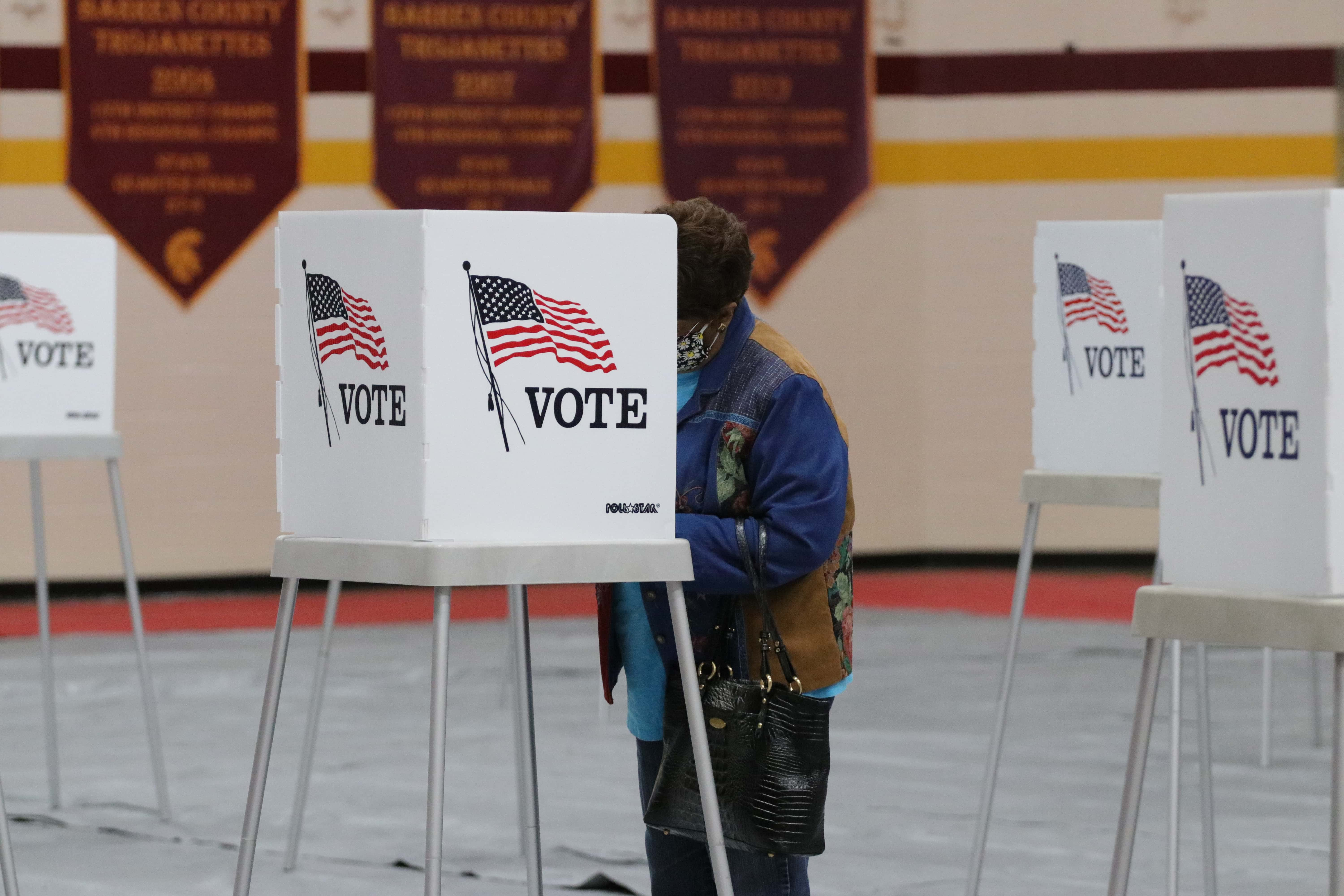 A voter marks a ballot at Barren County High School's Gymnasium on June 23, 2020, during the 2020 primary election.
(Photo by Brennan Crain/WCLU News)
GLASGOW, Ky. – The Barren County Clerk's Office released additional primary election data, and nearly 8,000 voters participated in this year's primary election.
The Barren County Clerk's Office says 6,440 absentee ballots were issued and absentee/ mail-in tabulations indicate 5,099 ballots were returned. The office also says 1,237 people voted at the Clerk's office (in-house votes).
Nearly 1600 voters turned out to Barren County High School, which was the county's only polling location due to COVID-19 restrictions. A total of 1,595 voters cast their ballots at BCHS.
Very few candidates were certain of their success on election day because absentee tabulations continue to pour into clerks' offices across Kentucky. Some clerks have remarked that their offices will not release results until June 30, which is the date for offices to return numbers to the Secretary of State's Office.
The following numbers are only preliminary results and are not to be considered final. These tabulations are a compilation of results from absentee/ mail-in, walk-in voting at the Barren County Clerk's Office and Barren County High School's votes. 
Republican Results:
President of the United States
Donald Trump, 3,546
Uncommitted, 271
United States Senator
Wendell K. Crow, 102
Paul John Frangedakis, 60
Louis Grider, 66
Naren James, 49
Kenneth Lowndes, 13
Mitch McConnell, 3,194
C. Wesley Morgan, 279
Nicholas Alsager, 24
United States Representative (2nd Congressional District)
Kathleen L. Free, 306
S. Brett Guthrie, 3,480
Democrat Results:
President of the United States
Pete Buttigieg, 42
John K. Delaney, 16
Joseph R. Biden, 1,985
Tom Steyer, 20
Tulsi Gabbard, 41
Michael Bennet, 38
Michael R. Bloomberg, 54
Amy Klobuchar, 48
Bernie Sanders, 348
Deval Patrick, 8
Andrew Yang, 60
Elizabeth Warren, 84
Uncommitted, 565
United States Senator
Charles Booker, 1,302
Mike Broihier, 104
Maggie Jo Hilliard, 32
Andrew J. Maynard, 30
Amy McGrath, 1,578
Eric Rothmuller, 13
John R. Sharpensteen, 44
Bennie J. Smith, 52
Mary Ann Tobin, 88
Jimmy C. Ausbrooks, 83
Constable (4th Magisterial District of Barren County)
This was the only local race to be on the primary ballot. The November General Election will include the Glasgow City Council. 
Charles E. Shaw, 327
Russ Mosier, 164