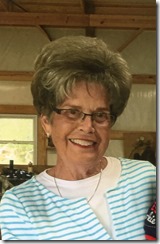 Linda Lou Calvert, 74, Austin, passed away Thursday, June 25, 2020 at Skyline Medical Center. Born March 9, 1946 in Fountain Run, she was the daughter of the late Elbert "Hoss" Veach and Margaret Lewis Marshall Veach. She was a homemaker and a farm wife to her husband Billy E. Calvert, who preceded her in death October 10, 2009. She was a member, Sunday School teacher, and trustee of Tracy United Methodist Church. She held a deep seeded love for her church, family, friends, and their farm.
Survivors include her children Todd and Donna Gray of Austin; three grandchildren: Matthew Gray (Katie), Jessica Rowe (Kyle), and Sarah Kingrey (Jamison); two great-grandchildren: Presley and Paisley Rowe; three brothers: Kelly Veach (Judy), Marshall Veach, and John David Veach (Carol); several nieces and nephews.
Funeral services will be held 11 a.m. Monday at the Hatcher & Saddler Funeral Home with burial in the Fountain Run Cemetery. Visitation will be after 5 pm Sunday at the funeral home. Alternate expressions of sympathy may take the form of contributions to the Billy E. Calvert Scholarship Fund at Tracy United Methodist Church.
In keeping with the Governor's requirements for funeral and memorial services, the number of attendees in the funeral home at any given time will be limited; no food permitted in the lounge; social distancing will be necessary; and face coverings are recommended. The service will also be streamed live at www.facebook.com/hatchersaddler; or you may listen to the service while in our parking lot by tuning your radio to FM 89.1.