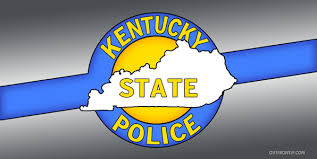 Oak Grove, Ky. (Christian County) – KSP Post 2 in Madisonville was contacted by the Christian County Sherriff's Department at 8:00 AM on June 26, 2020, in reference to a three vehicle fatal collision on I-24.
Through investigation, troopers discovered 47-year-old Johnny R. Clark of Joelton, Tennessee, was operating a 2018 International box truck eastbound around the 93 mile marker, in the right lane of travel. 65-year-old Jeffrey Clark of Hartford, Illinois was operating a 2016 Western Star tractor-trailer westbound on I-24 around the 93 mile marker, in the right lane of travel. 22-year-old Dalton Dodd of Clarksville, Tennessee, was operating a 2006 Pontiac G6 westbound on I-24 in the left lane of travel, beside Mr. Clark's vehicle.
For an unknown reason, Johnny Clark's box truck crossed the eastbound lanes of travel, crossed the median, traveled through the cable barrier, and entered the westbound lanes of travel. Dalton Dodd's vehicle entered the westbound, right lane of travel to avoid a collision with Johnny Clark. Dodd's vehicle sideswiped the front driver's side of Jeffrey Clark's vehicle. Mr. Dodd's vehicle continued off the westbound, right shoulder of the roadway, and up an earth embankment.
Johnny Clark's vehicle continued across the left, westbound lane of travel, striking Jeffrey Clark's vehicle in a head on manner. Both operators were in their vehicles when they caught fire.
Dalton Dodd was uninjured in the collision. Johnny Clark and Jeffrey Clark were pronounced deceased at the scene by the Christian County Coroner's Office. The investigation is ongoing by Trooper Brian Graves.