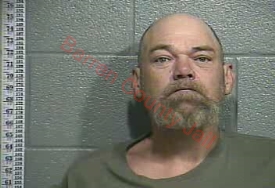 EDMONTON, Ky. – The Metcalfe County Sheriff's Office assisted the Glasgow Police Department with a shooting investigation and arrested one person.
Authorities responded to Fred Ray Road on Monday around 9:30 p.m. to assist the GPD with the shooting investigation. A deputy with the MCSO observed Tony E. Peek, 48, sitting inside his vehicle at the address.
Police made contact with Peek and noted drug paraphernalia lying in plain view, a press release said.
Authorities discovered additional items of drug paraphernalia, suspected marijuana, suspected methamphetamine and a loaded 9mm handgun inside the passenger compartment of the vehicle.
Because Peek is a convicted felon, he was arrested and charged with possession of a handgun by a convicted felon. He also faces charged related to first degree possession of a controlled substance (drug unspecified), possession of marijuana and drug paraphernalia. He was also cited on one count of failure to register trasnfer of a motor vehicle.