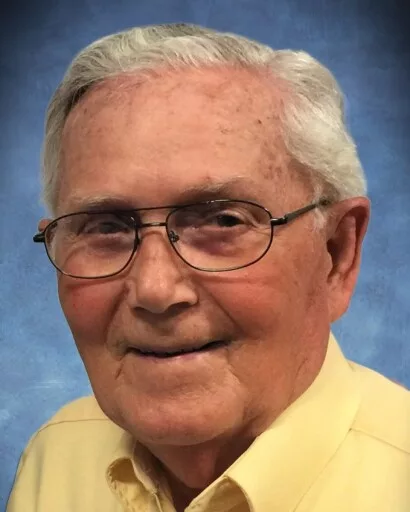 Frank Browning, age 88 of Lindseyville, peacefully departed this life with his family by his side on Saturday morning, November 18, 2023 at Genesis Edmonson Center.  The Edmonson County native was born on August 13, 1935 to the late Dewey and Pauline Skaggs Browning.  He was married to his loving wife and help mate of seventy years, Florence Hogan Browning, who survives.
Frank was saved as an adult at Midway United Missionary Baptist Church, and remained a devoted member until his health began to fail.  He worked for many years at Belknap Hardware and Manufacturing Company in Louisville. In his later years, he worked at Green River Hardware.  Frank had a gift to pray for the lost, and that brought him life's greatest joy.  Frank and Florence's home was always filled with love, and was a second home to many children through the years.
Besides his wife, Florence, he leaves to honor his memory— his children, Alan Browning (Alicia), David Browning (Rebecca) and Sherri Browning Vincent; grandchildren, Julie Richardson (Shawn), Adam Browning (Stacy), Shanna Lashley (Chad), Todd Browning (Kacey), Ben Browning (Amy), Justin Browning (Julie), Jordan VanMeter (Cliff), Jodi King (Jake) and Colten VanMeter (Kallie); twenty great-grandchildren; several step-grandchildren and step great-grandchildren; siblings, Anthony Browning (Wilma) and Brenda Ray (Clifford), along with a several nieces, nephews and extended family members. He was also preceded in death by his son and daughter-in-law, Wade and Sandra Browning; great-granddaughter, Shelby Faith Richardson; step great-grandson, Taylor Parmer, and siblings, Bro. Bill Tom Browning, Delta Ray, Stoy Browning, Doug Browning and Lucy Jaggers.
Interment will be in Midway Church Cemetery. Memorial contributions can be made to: Midway Church Cemetery Fund, c/o Ronnie Lindsey.
VISITATION
12—8 PM, Monday, November 20, 2023
9 AM—2 PM, Tuesday, November 21, 2023
Midway United Missionary Baptist Church
FUNERAL SERVICE
2 PM, Tuesday, November 21, 2023
Midway United Missionary Baptist Church