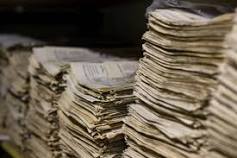 July 2013
Barren County Progress
7-3-2013 – Saluting an American Patriot, Charles Hogan, Park City native, who retired from the USAF in 1971 as a Tech/Sgt.
Glasgow native, Evan Richardson, writes about his career as a makeup artist in the international world.
Michael Darst is named Assistant Principal at Barren County Middle School.
Austin Childs, Louisville, was the singles division Champion of the Weldon Tennis Tournament. Childs and Victor Maksimcuk won the Jim Moody Double Classic for the 3rd year. The Weldon Tennis Tournament is an institution since 1928 and was started by Dr. William Adair Weldon.
Mikalya Powell was awarded the Karl Weis Memorial Scholarship for 2013.
7-11-2013 – Members and friends of Glasgow's First United Methodist Church gathered Sunday to observe Independence Day with special tribute to area first responders.
Madison 'Maddy' Wood and Cole Peavler , 2013 graduates of Barren County High School , will cheer for Morehead State University's Cheerleading squad.
Temple Hill Lions Club Officers for 2013-14 are Doug Belcher, Ralph Dunbar, James Russell, Mike Harlow, Jason Russell and Frank Rowland.
Trina Richard and Tori Buckley won the Women's Open Double division of the Central Kentucky Tennis Tournament held in Columbia. Tori and Blake Nelson won the Mixed 18 and under double  division.
Rolling Thunder plans a memorial ride for Justin 'Spanky' Wilkerson and Lenny Pittman on July 14th.
7-18-2013 – Mike Wilson is leading an effort to hold a major military veteran's reunion in Glasgow in 2014.
2 new History Markers will be unveiled Saturday at the Barren County Courthouse lawn – Willa Brown Chappell and Nettie B C Depp.
Kathy Burris is named the new Teacher Consultant for Special Programs for Barren County Schools.
Wright Implement holds ground breaking for their new 17, 723 foot facility to be built on the new Bowling Green Road.
Farmers RECC celebrated their Diamond Anniversary July 11th.
T J Health Partners welcome Elizabeth Combs, Doctor of Family Medicine.
7-25-2013 – Glasgow City Council purchases land for airport at 49 Perkins Road from Jeanetta Richardson and also considers bonuses for employees.
"Quilts of the Barrens" opens Friday at the SCKCC through August 4th.
Ribbon cutting held for Plum Yum Frozen Yogurt and Café at 348 N. L. Rogers Wells Blvd.
Ribbon cutting officially opens Barren County Fair on July 15th. Also ribbon cutting for Farm Credit Mid-American on July 18th.
Miss Barren County Fair is Baylee Erin Shofner and Miss Barren County is Emily Brooks Scoggins.
Caverna Class of 1988 holds reunion July 13 at Mammoth Cave Hotel.