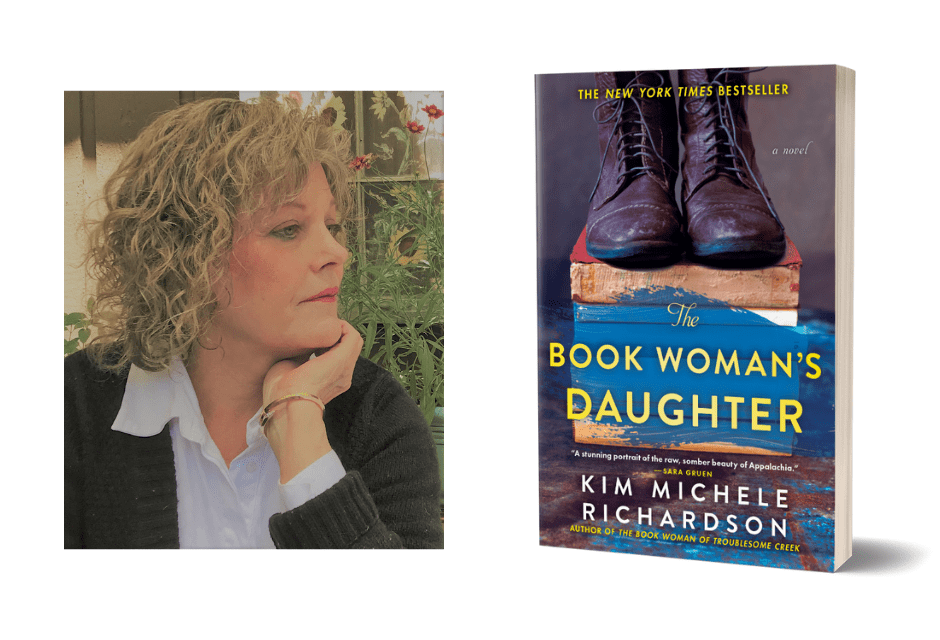 Kim M. Richardson, the author of "The Book Woman's Daughter," and a copy of the book.
(MARY WOOD WELDON MEMORIAL LIBRARY)
GLASGOW — A Kentucky Reads book discussion is planned on April 18 at 6 p.m. at the Mary Wood Weldon Memorial Library. The book discussion will center around "The Book Woman's Daughter" by Kim Michele Richardson.
Donna Eastham will lead this discussion of the novel, the follow-up to Richardson's The Book Woman of Troublesome Creek. Attendance is free and all are invited to attend, according to a news release from the MWWML. The library has a limited number of free copies of the book for those planning to attend.
Free copies of the book can be claimed at the library, which is located at 1530 S. Green St.
Kentucky Humanities has selected Kim Michele Richardson's The Book Woman's Daughter for its 2023 Kentucky Reads. The novel will be at the center of statewide conversations on the coming of age, the importance of family, literacy, access to education, and the dangers of stereotyping.
Honey Lovett—daughter of the famed blue-skinned, Troublesome Creek packhorse librarian—and her family have been hiding from the law all her life. When her mother and father are imprisoned, Honey must fight to stay free, or risk being sent away. Picking up her mother's old packhorse library route, Honey delivers books to the remote hollers of Appalachia. But the route can be treacherous, and some people aren't as keen to let a woman pave her own way.
Kim Michele Richardson is a New York Times, Los Angeles Times, and USA Today bestselling author. She has written five works of historical fiction, and a bestselling memoir. Her critically acclaimed novel, The Book Woman of Troublesome Creek, earned a 2020 PBS Reader's Choice, 2019 LibraryReads Best Book, Indie Next, SIBA, Forbes Best Historical Novel, Books-A-Million Best Fiction, and is an Oprah's Buzziest Books pick and a Women's National Book Association Great Group Reads selection. Kim Michele lives with her family in Kentucky and is the founder of Shy Rabbit.
Kentucky Humanities is a non-profit Kentucky corporation affiliated with the National Endowment for the Humanities. For information about Kentucky Humanities' programs and services, including Kentucky Reads, visit kyhumanities.org.