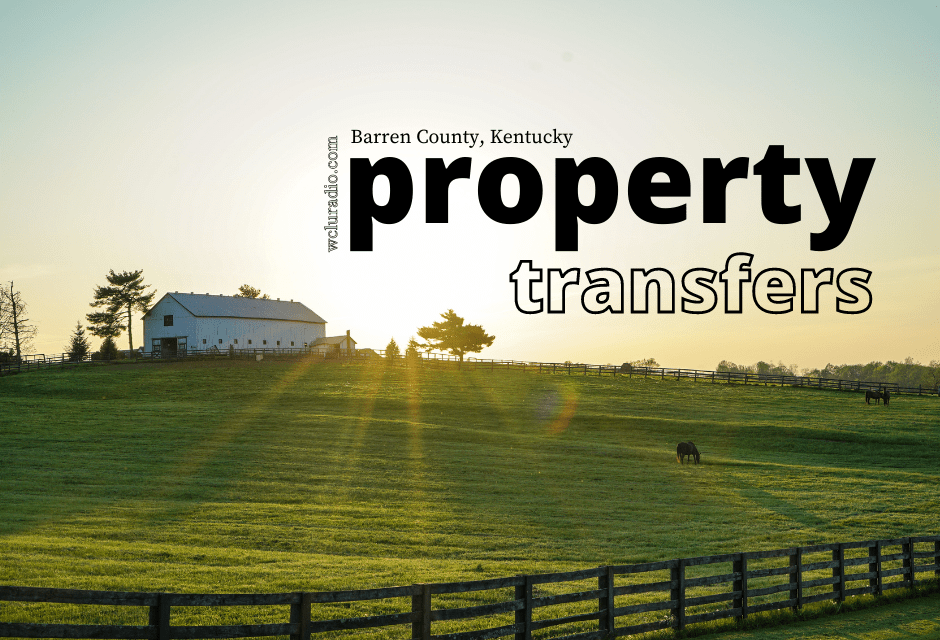 GLASGOW — The following property transfers were recorded at the Barren County Clerk's Office from Dec. 19 to 22, 2022. The office was closed on Jan. 16 in observance of Dr. Martin Luther King Jr. Day.
Tax information is not reported when money is not exchanged. Such instances include foreclosures, master commissioner deeds, divorce settlements and transfers made within a family.
Jan. 17, 2023:
James A. Bellah to Joshua Bradford and Sara Bradford, Tract with Easement, Barren County, $131,000.

Randy R. Casteel and Laura N. Casteel to Michael V. Maloney and Reba F. Maloney, .576 acres (P15/846), Lyons School Road, $85,000.

K&M Services LLC to Lexington Dr. LLC, 15.648 acres, Lexington Drive, $283,550.

Akebono Brake Corporation to Commonwealth of Kentucky and Department of Highways, Multiple Tracts, Highway 1297, $106,300.

Connor S. Gregg and Kelsey M. Gregg to Merit Farms of Kentucky LLC, 2 Parcels, Highway 100, $339,890.

K&M Services LLC to 5B Farms LLC and Nellie Bell, 2 Parcels, Willie Groce Subdivision, $600,875.62

Bartco Properties LLC to Terry Shank and Cathleen Shank, 1.655 acres, Carnation Drive, $190,000.
Jan. 18, 2023:
Lora P. Gray to Danny Layton, 2 Tracts (P19/405), Old Lexington Drive, $219,500.

Deborah Slaughter to Bayron N. Pineda Calderon and Wendy R. France Morales, Lot 10 (P1/197), Rachel Court, $26,000.

Estate of Robert P. Calfee, Christopher Calfee, Carolyn Green, Terry Green, Jonathan Calfee and Alexander Calfee to Keaton G. Dennis, 12.12 acres, Park City-Glasgow Road, $235,000.
Jan. 19, 2023:
Estate of Anna L. Wheat Lindsey, Dallisa W. Haas, Adam R. Hass, Michael K. Wheat and Kathy Wheat to Richard W. Johnson, Multiple Lots, First Street, $70,000.

Betty G. Bradshaw, Betty G. Barbour and Jessie Bradshaw to Anna B. Lacouture and Brent Lacouture, 2 Lots (P5/57), Park Heights Subdivision, $145,000.

Danny L. Hardin and Gail M. Hardin to Leca LLC, .298 acres, East Main Street, $55,000.
Jan. 20, 2023:
Brad Ragan Real Estate LLC to Abes Fireworks LLC, 2 Tracts, West Main & Honeysuckle, $105,000.

Orlando F. Bravo and Leticia A. Bravo to Raceway Property Management LLC, 3.02 acres, North Race Street, $1,100,000.

Gary Davidson and Jamie Davidson to Clinton Kiteck and Mary J. Kiteck, 2.774 acres, Barren County, $140,000.

William E. Woods and Judy R. Woods to KRW Investment Properties LLC, Lots 27 and 28, Hunley Court, $112,000.

Bobby McGuire to Traa N. Armbrust, 1.348 acres, Barren County, $65,000.

James Pyanowski and Bethann Pyanowski to Mosbys REO LLC, Tract, Bob Parrish Road, $22,890.81.

William J. Simmons, Jeffrey Simmons, Debra A. Simmons, James R. Simmons, Susan Simmons, Debra S. Reed, Debra S. Gatewood, Clint Reed, Thomas N. Simmons and Tara Simmons to John W. Mohon and Julia S. Mohon, 10.0 acres (P22/29), Poplar Spring Road, $355,000.

Estate of Donald Svenningsen to M. Landers Inc., Lot 46 (P6/84), Cardinal Bay, $124,300.