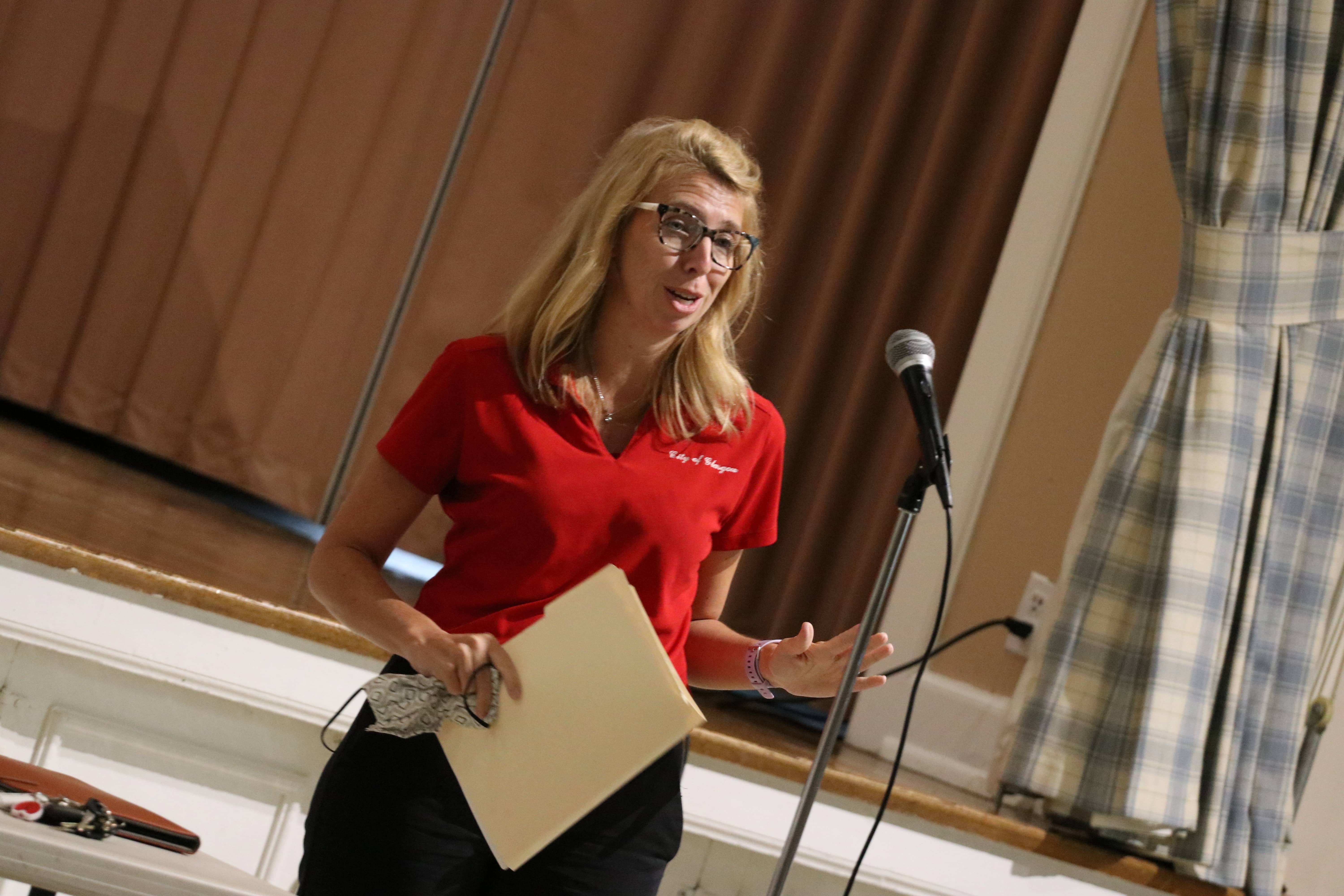 April Russell, co-chairperson of Entertain Glasgow, speaks at a meeting held at Lera B. Mitchell Clubhouse in Aug. 2020. Russell coordinates events with the group alongside Katie Hawks.
(BRENNAN CRAIN/WCLU NEWS)
GLASGOW, Ky. — Entertain Glasgow will host its first event of 2021 on May 1.
The group released its 2021 calendar of events. There are five events scheduled through Sept. 18.
"Boots & Bling. It's a Derby Thing!" is the first featured event, which is set for May 1 at Willow Oaks Golf Club. The event will be the second annual occurrence. It will serve as a fundraising event.
Tickets for the first event can be purchased at Entertain Glasgow's Facebook page. There will be bourbon, win and craft beer tastings, a silent auction, derby races, food trucks and a live band.
The second event is scheduled Saturday, June 26 at Beaver Creek Park. "Tubes, Tunes and BBQ" will mark its third occurrence this year. There will be tubing down Beaver Creek, local live music, children's activities, corn hole, food trucks and fireworks. The event is free to the public.
Two concerts are scheduled Friday, July 16 and Friday, Aug. 13. Those will be held on Glasgow's Public Square. The series is a new idea, Entertain Glasgow said.
Music, food and drinks will be available at the concert series. The event is free to the public.
The last event of 2021 is scheduled Sept. 18. "Groove and Glow" is set for the Saturday at Glasgow Municipal Airport.
The second annual event will include "plenty of hot air balloons for you to admire, a few for you to ride, and all the fun things for kids to do," according to a flyer from the group.
Live music, food trucks and cold beverages will be at the free, public event.
More information is available at Entertain Glasgow's Facebook or email at entertainglasgow@gmail.com.