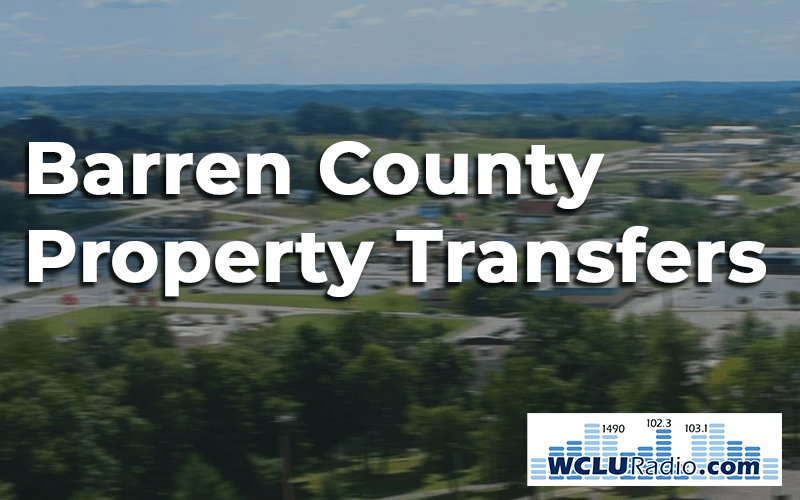 GLASGOW, Ky. — The following property transfers occurred during the week of March 15, 2021. Tax information is not reported when money is not exchanged. Such instances include foreclosures, master commissioner deeds, divorce settlements and transfers made within a family.
March 15, 2021:
Kelmer Annette Dennison and Michael D. Dennison to Dannie S. Thrasher and Sheila C. Thrasher, 0.717 acres, Lewis Road.
Glasgow Barren County Industrial Development and Barren County Economic Authority to Lynx Labeling Inc., 1.3 acres, Carroll Knicely Drive, $20,000.
Tim Mark Hess and Kathy Hess to Lake Daze LLC, 2 properties, Indian Hills Resorts, $449,000.
Eleanor L. Butsch Revocable Trust to Brittany N. Russell and Karl David Russell, Multiple lors, Indian Hills Resorts. 
Jerry Miller and Daiva Miller to Justin Ryan Wilson and Diana Emperatriz Wilson Mosquera, 10 acres, Iron Mountain Road, $40,000. 
Brian W. Greene and Heather M. Greene to Tanner Burris, 1.314 acres, Bishop Road, $40,000.
Herman Hall and Shannon Hall to Matthew Stevens and Christina Stevens, .703 acres (Lot #17), Zoe Drive, $379,000. 
Burton Subdivision LLC to James Adams and Toni Adams, Lot #12, Burton Subdivision, $167,000.
Southern Craftsman Homes LLC to Angela D. Hamilton, Lot #5, Parkview Estates, $150,000.
Janet S. Boles to Jacqueline Flee Lenoir, Henry Burks Steen III, and Buddy Steen, 5.0 acres, Jackson HWY, $30,000.
Michael James Renick, Lowell Renick, Eva Gertrude Renick, and Nowell Renick to Burton Subdivision LLC, 1 tract, Red Cross Road, $280,000.
March 16, 2021:
Nancy Charlene Poynter to Winford Dale Poynter, 29.508 acres, Lick Branch Road, $280,000.
March 17, 2021:
Cheryl Berry Master Commissioner, Patricia Peden McCandless, Ronnie McCandless, Susan Ward Johnson, Christopher Johnson, Scotty Ward, Debbie Ward, Elaine Ward Russell, Dwight Russell, Debra Ann Dosco, Unknown Spouse of Debra Ann Dosco, James Dale Whitlow, and Estate of James Oscar Whitlow to Reddy Farms LLC, 6 tracts, Poynter Road.
Southern Craftsman Homes LLC to Sarah Jessica Runeau and Billy James Reneu, Lot 2, Parkview Estates, $155,000.
Randell Wayne Bryant II, Randall Bryant, and Melissa Bryant to Randell Wayne Bryant II and Melissa Bryant, .278 acres, Eastland Court.
Richard Chad Crabtree and Dawn M. Crabtree to Mike Farrell and Kathryn Farrell, 1.35 acres, South Fork Road, $37,500. 
Pyrot LLC to AMM Real Estates LLC, 1 lot, East Main Street, $1625,500.
Estate of Bonnie Jean Meredith and Heather N. Meredith to Dylan F. Davis and Kenneth Meredith Jr., .55 acres, Bear Wallow Road, $41,700. 
Eujean Joseph Phelan to Kassandra Christine Phelan, Lot, Lafferty Road.
March 18, 2021:
Raymond Hishmeh, Cynthia Hishmeh, Alfred Hishmeh, and Jennifer Hishmeh to Isaac Barrick and Amber Barrick, Multiple lots, Clements Addition,$83,500.  
Millsap & Singer LLC Foreclosure Commissioner to Secretary of Housing and Urban Development (United States of America), Lot 8, Barren County.
Kristie Lee Gosnell Bulle and Mike Bulle to William T. Gosnell, 2 parcels, Barren County.
Maraz Ansar and Tabatha Ansar to Craig M. Stevens and Sara M. Berry, Lot 54, Cardinal Court, $165,000. 
Jessica Houghens Jones and Greg Jones to Todd Holmes and Karen Holmes, 7.263 acres, Barren County.
Paul W. Bunn and Deanna A. Dyer to Paul W. Bunn and Deanna Bunn, 32.165 acres, Lick Road.
GT Properties of KY LLC to David Tavenner Stoll and Barbara Ann Stolll, Tract 2, Minick Addition Barren County, $25,000.
Roy A. James and Angela C. James to Gregory Ryan Simpson and Candice Nicole Simpson, Lot (20,000 sq ft) Barren County, $160,000.
Craig Matthew Stevens and Sara Marie Berry to Rebecca Grant Lile, Jeffrey Lynn Lile, and Marita Witty Lile, Multiple lots, Norris Place Addition, $80,000.
Stacy R. Sturgeon to Keith W. Sturgeon to .983 acres, Whitney Woods Road, 
March 19, 2021: 
Gerald Wayne Thorpe and Roxanne Renee Thorpe to John S. Keys and Merry Keys, .475 acres (Lot #127), Seay Street, $245,000.
4×2 LLC to Wfore LLC, .607 acres (Lot #40), Profession Park Subdivision, $625,000.
Triple Cross Inc. to Cole Edward Forbis, .51 acres, Green Leaf Drive, $121,000.
Karen Francis Dilley and Kerry A. Dilley to Larry Woodruff, 3 tracts, HWY 70, $85,000.
Alan Thomerson and Elizabeth Thomerson to Cody Milam .380 acres, Hutcherson Estates, $60,000.
Highland Hills Community Church to Southern States Glasgow Coop, 16.569 acres, Donnelley Drive, $362,000.
Ashley St. J Mixson III and Karen Mixson to Teddy Lee Bryant and Ashley Nicole Bryant, 2 parcels, Barren County, $450,000.
Ryder Lee Bagby, Corey Paige Bagby, and Bobby H. Richardson Trustee to Ryder Lee Bagby, Corey Paige Bagby, and Bobby H. Richardson Trustee, 4.00 acres, Coral Hill Road.