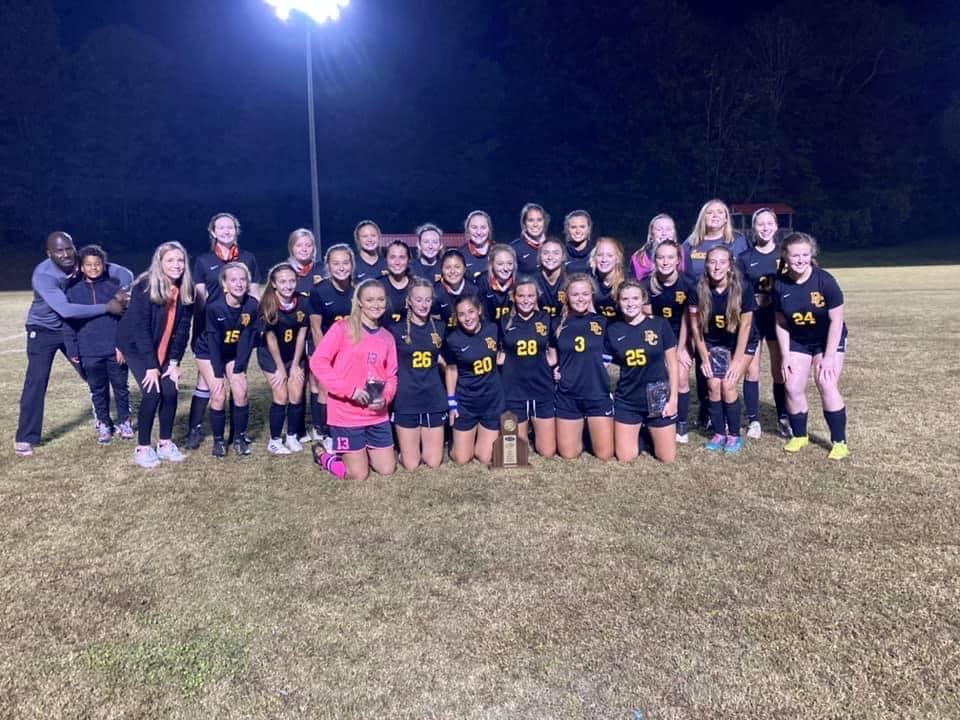 Members of the Barren County Trojanette soccer team gather around the 15th District Title after a double overtime game against the Glasgow Lady Scotties on Tuesday, Oct. 13, 2020.
PHOTO: Barren County Trojanette Soccer
GLASGOW, Ky. – The Barren County Trojanettes overcame the Lady Scotties in a double overtime matchup to win their fifth consecutive 15th District Tournament title.
Ally Bell, junior, was named the tournament MVP after she scored the second goal in the second overtime to defeat the Lady Scotties. Several other Trojanettes, and Lady Scotties, were named to the All Tournament Team.
Gabby Basile, Acey Page and Carrie Beth Vaught, all from the Lady Scottie team, were named to the All Tournament Team.
Jentry Bowles, Hailey Hills and Gracelyn Deweese, players for the Trojanettes, were named to the All Tournament Team.
The Lady Scotties and Trojanettes will move on to play in the 4th Region Tournament on Saturday, Oct. 17 at Warren East High School in Bowling Green. A tournament draw will be held Friday, Oct. 16. The teams will then know their opponents and times following that draw.
The Glasgow Scotties and Barren County Trojans face each other Wednesday at 6 p.m. for the 15th District Boys Tournament.