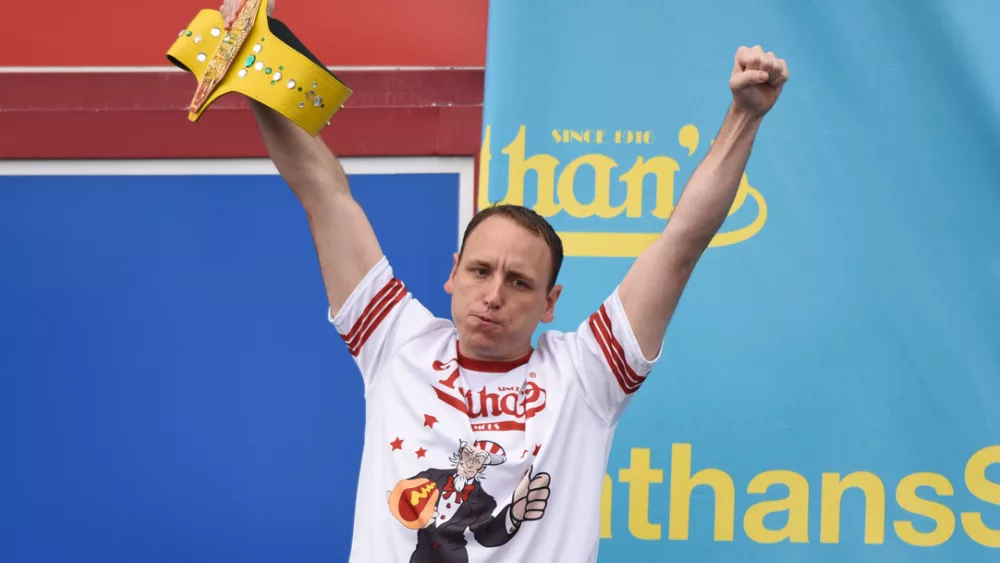 Joey "Jaws" Chestnut won his 16th Mustard Belt by consuming 62 hot dogs and buns in 10 minutes at the 2023 Nathan's Hot Dog Eating Contest on July 4th. Chestnut battled a lengthy weather delay, but still became this year's world champion for the eighth straight year.
Thunderstorms in the New York area caused the two-hour delay, but it didn't seem to affect Chestnut, who easily led his competitors. Chestnut, however, was unable to break his world record of 76 hot dogs and buns, with this year's official total 62 hot dogs and buns consumed – one fewer than the 63 he ate to win the event in 2022.
Chestnut finished 13 ahead of the runner-up, Geoffrey Esper; the race for second and third place went down to the wire, with Esper – last year's second place winner – finishing with 49 hot dogs and buns consumed. Third place went to James Webb, with 47 hot dogs and buns consumed.
In the women's competition, Miki Sudo continued to dominate and won her ninth career Mustard Belt with 39.5 hot dogs and buns. Mayoi Ebihara finished in second place, with 33.5 hot dogs and buns eaten.
Editorial credit: a katz / Shutterstock.com