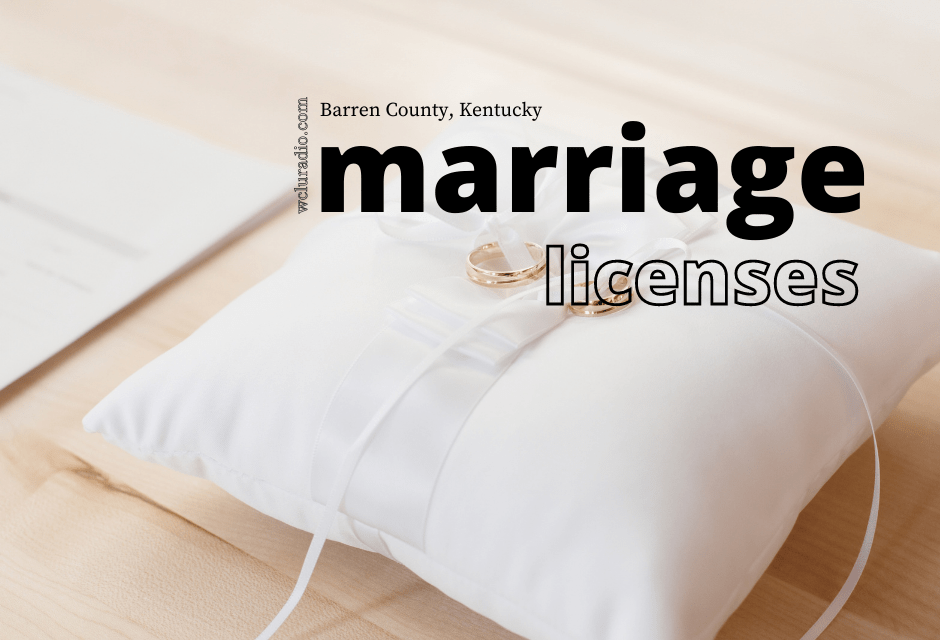 The following marriage licenses were issued at the Barren County Clerk's Office from May 1- to May 5, 2023.
May 1, 2023
Chandler Dane Reed Hutten 23 of Knob Lick and Toby Ronald Gibson 24 of Glasgow.

Allechia Michelle Jones 49 of Glasgow and Arthur Brent Steenbergen 57 of Fountain Run.
May 2, 2023
Sayda Roxana Guerra Matzar 24 and Jose Ramon Preciado Lopez 22 both of Cave City.

Kodi Nicole Kado 32 and Brian Steven Crump 34 both of Glasgow.
May 3, 2023
Elizabeth Leona Tapscott 41 and Nicholas Lee- David Garber 42 both of Glasgow.

Sarah Rose Huffman 33 and Aaron Scott Jeffries 43 both of Glasgow.

Chasey Jo Jessie 21 of Glasgow and Andrew Thomas Gentry 23 of Cave City.

Martha Canzada Harbison 23 of Glasgow and Nicholas Bryant Kingrey 26 of Etoile.
May 5, 2023
Kara Alice Poynter 32 and Brandon Ellis Poynter 31 both of Glasgow.