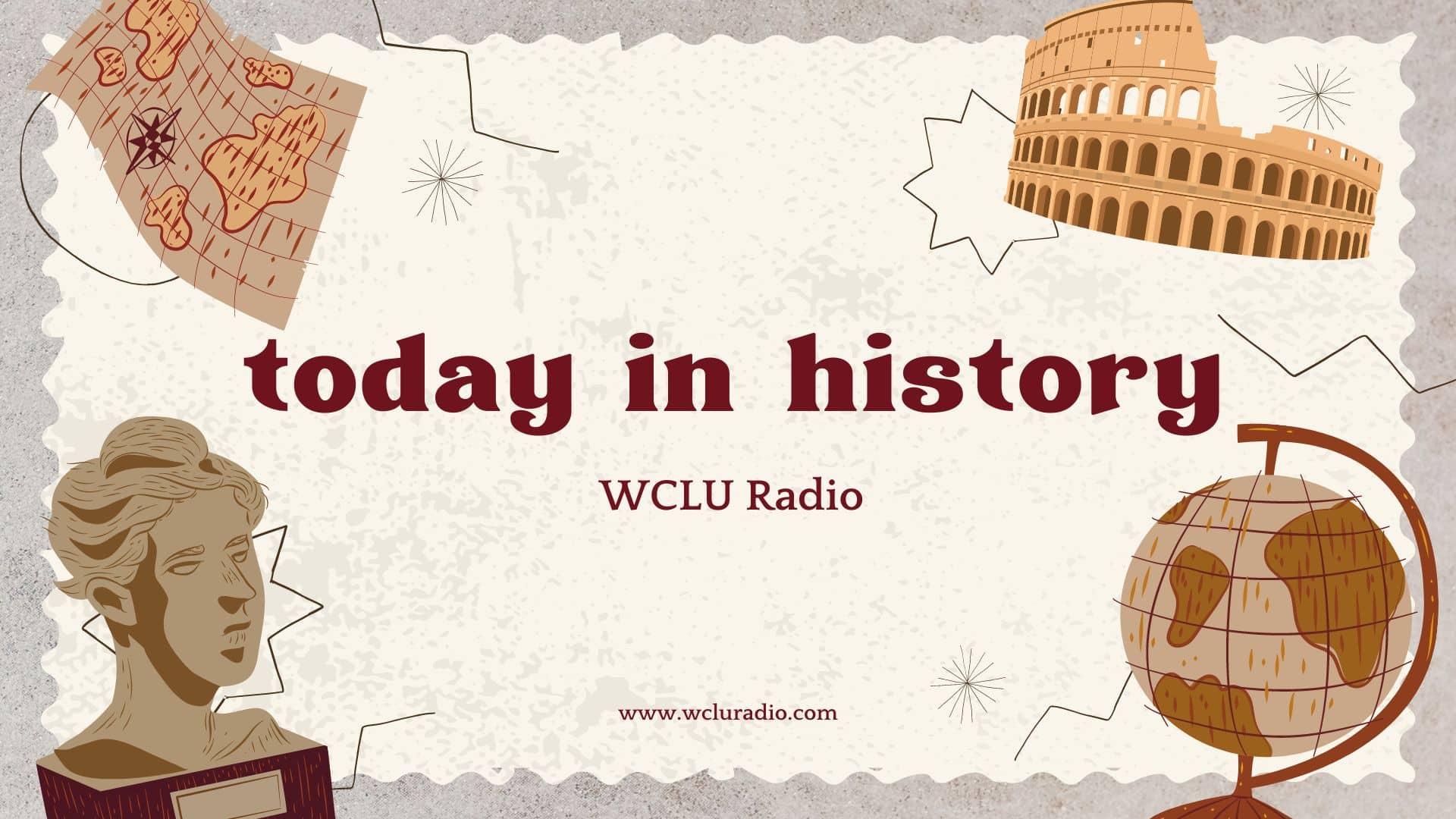 Today in History
Today is Friday, March 3, the 62nd day of 2023. There are 303 days left in the year.
Today's Highlight in History:
On March 3, 1974, a Turkish Airlines DC-10 crashed shortly after takeoff from Orly Airport in Paris, killing all 346 people on board.
On this date:
In 1791, Congress passed a measure taxing distilled spirits; it was the first internal revenue act in U.S. history.
In 1845, Florida became the 27th state.
In 1849, the U.S. Department of the Interior was established.
In 1863, President Abraham Lincoln signed a measure creating the National Academy of Sciences.
In 1931, "The Star-Spangled Banner" became the national anthem of the United States as President Herbert Hoover signed a congressional resolution.
In 1943, in London's East End, 173 people died in a crush of bodies at the Bethnal Green tube station, which was being used as a wartime air raid shelter.
In 1945, the Allies fully secured the Philippine capital of Manila from Japanese forces during World War II.
In 1960, Lucille Ball filed for divorce from her husband, Desi Arnaz, a day after they had finished filming the last episode of "The Lucille Ball-Desi Arnaz Show."
In 1966, death claimed actors William Frawley at age 79 and Alice Pearce at age 48 in Hollywood.
In 1969, Apollo 9 blasted off from Cape Kennedy on a mission to test the lunar module.
In 1991, motorist Rodney King was severely beaten by Los Angeles police officers in a scene captured on amateur video. Twenty-five people were killed when a United Airlines Boeing 737-200 crashed while approaching the Colorado Springs airport.
In 2017, The Nintendo Switch, a hybrid game machine that works as both a console at home and a portable tablet on the go, made its debut.
In 2020, in a surprise move, the Federal Reserve cut its benchmark interest rate by a half-point, its largest cut in more than a decade, to support the economy in the face of the spreading coronavirus.
Ten years ago: Vice President Joe Biden led civil rights leaders and national political figures in a ceremonial crossing of a Selma, Alabama, bridge where voting rights marchers were beaten by law enforcement officers in 1965. The SpaceX company's Dragon capsule made good on its latest shipment to the International Space Station, overcoming earlier mechanical difficulty to deliver a ton of supplies. Bobby Rogers, a founding member of Motown group The Miracles and a songwriting collaborator with Smokey Robinson, died at his suburban Detroit home at age 73.
Five years ago: Actor David Ogden Stiers, best known for playing a surgeon on the "M.A.S.H." television series, died at his Oregon home at the age of 75. Coastal communities in the northeastern United States saw damaging high tide flooding and the lingering effects of powerful, gusting winds in the aftermath of a vicious nor'easter. Roger Bannister, the British athlete who, while a medical student, became the first person to run a mile in under 4 minutes, died in Oxford, England at the age of 88.
One year ago: Amid a wave of cultural protest to Russia's invasion of Ukraine, an Amsterdam museum cut its close links to the Hermitage Museum in St. Petersburg, and the Swedish Academy that hands out the prestigious Nobel Prize in Literature broke its long tradition of not making political statements and condemned the invasion. In New York, soprano Anna Netrebko withdrew from her future engagements at the Metropolitan Opera rather than repudiate support for Russian President Vladimir Putin, costing the company one of its best box-office draws. OxyContin maker Purdue Pharma reached a nationwide settlement over its role in the opioid crisis, with the Sackler family members who own the company boosting their cash contribution to as much as $6 billion in a deal intended to staunch a flood of lawsuits.
Today's birthdays: Singer-musician Mike Pender (The Searchers) is 82. Movie producer-director George Miller is 78. Actor Hattie Winston is 78. Singer Jennifer Warnes is 76. Actor-director Tim Kazurinsky is 73. Singer-musician Robyn Hitchcock is 70. Actor Robert Gossett is 69. Rock musician John Lilley is 69. Actor Miranda Richardson is 65. Radio personality Ira Glass is 64. Actor Mary Page Keller is 62. Olympic track and field gold medalist Jackie Joyner-Kersee is 61. Former NFL player and College Football Hall of Famer Herschel Walker is 61. Actor Laura Harring is 59. Contemporary Christian musician Duncan Phillips (Newsboys) is 59. Rapper-actor Tone Loc (lohk) is 57. Actor Julie Bowen is 53. Country singer Brett Warren (The Warren Brothers) is 52. Actor David Faustino is 49. Gospel singer Jason Crabb is 46. Singer Ronan Keating (Boyzone) is 46. Rapper Lil' Flip is 42. Actor Jessica Biel is 41. Rock musician Blower (AKA Joe Garvey) (Hinder) is 39. Musician Brett Hite (Frenship) is 37. Pop singer Camila Cabello is 26. Actor Thomas Barbusca (TV: "The Mick") is 20. Actor Reylynn Caster is 20.