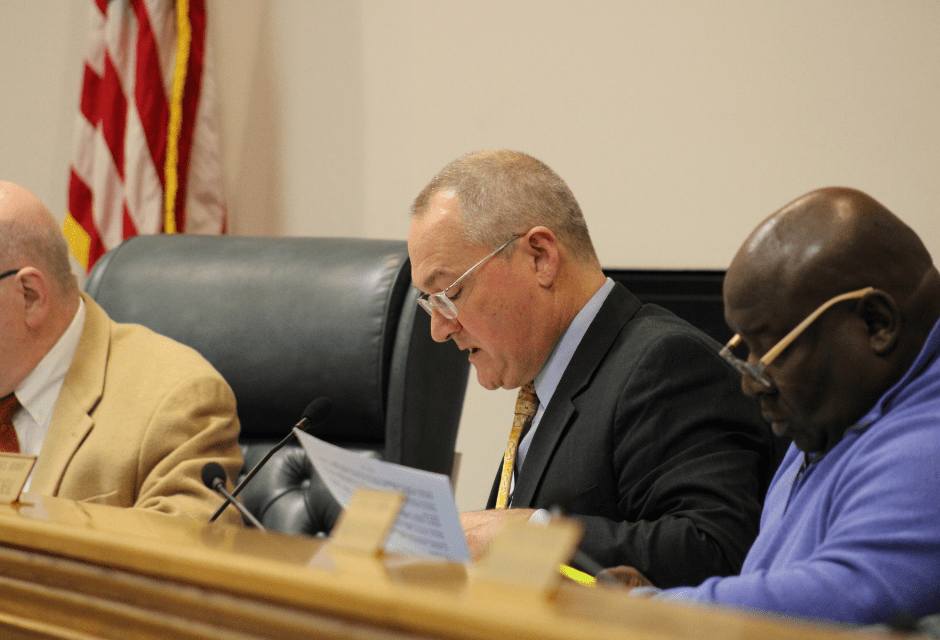 Rich Alexander,

center

, reads aloud an ordinance at the Glasgow City Council Meeting on Monday, Jan. 23, 2023. Council-member James "Happy" Neal sits to Alexander's left while Mayor Henry Royse is seated at right.
(LUKE PIERCE/WCLU NEWS)
By LUKE C. PIERCE, WCLU News
GLASGOW — Three people, including one councilmember, were sworn in as the newest board members of the Glasgow Electric Plant Board of Directors at a meeting of the Glasgow Council Monday evening.
Those three individuals included Robert Oliver, a newcomer who will fill the unexpired term of Beau Jones; Troy Stephens, who has served on the board and was reappointed; and Chasity Lowery, the councilmember representative. She will replace Marlin Witcher, the longstanding representative on the board of directors.
Jones, appointed by former Glasgow Mayor Harold "MD" Armstrong, stepped down from his position after he was hired as the deputy judge/executive in Barren County government.
Witcher was the lone no vote for Oliver's appointment after a vote was taken Monday. Freddie Norris was not present.
In other business, the city council passed an ordinance changing the time the council meets on a regular basis. Meetings have been held at 7 p.m. on the second and fourth Monday each month for a while, but they will now be held at 6 p.m. on the second and fourth Monday.
Discussion regarding Richardson Stadium at Gorin Park and the city-owned pool was held toward the end of the meeting. Richardson Stadium was a complete loss after a fire last summer. The city-owned pool is dilapidated. Councilmember Lowery, who chairs the city's Parks and Recreation committee, said both items are set to be discussed at an upcoming meeting on Jan. 31 at 4 p.m. She said she hopes to bring more information to councilmembers at their next meeting.
Thom Kendall, a representative of the Glasgow Planning and Zoning board, briefed the council on an ordinance that would rezone a portion of property at the corner of South Morgan and East Wayne Streets. The proposal would reclassify the area from general business to small lot medium density residential classification.
Two resolutions were also approved authorizing April Russell, director of Grant Oversight, to apply for various grants.
A slew of other appointments included four to the Plaza Theatre Advisory Board. Those were Holly Alexander, Jessica Wells, Cody Meek and Jerry Ralston and were passed with unanimous approval.
The next scheduled council meeting is on Monday, Feb. 13 at 6 p.m. in the council chambers at Glasgow City Hall. The meeting is open to the public.