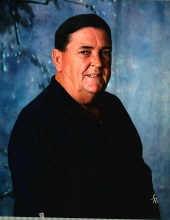 Percy Stinson, age 80 of Cave City passed away Wednesday, November 23rd in ER at the Medical Center at Caverna.  He was an auto parts salesman and a member of Our Lady of Caves Catholic Church.
He was preceded in death by his parents Robert & Edwina Clemons Stinson and his siblings Marsha Webb, Delma, Cletus and Joe Stinson.
Percy is survived by his wife Lucy and his siblings Antionette Thompson(Marvin), Linda Clark, Janice Cottrell, Kaye Taylor, Carolyn Gibson(Mike), Sherry Roberson(Ben), Mary Davidson(Danny), Martha Myers, Tammy Stinson, Charlie Stinson(Brenda), Larry Stinson, Jimmy Stinson(Julie) and Roger Stinson(Mimi);  Several nieces and nephews also survive.
The funeral service for Percy Stinson will be 11am Saturday at the St. Benedict Catholic Church with burial in the Little Flock Cemetery in Grayson County.  Visitation will be from 3:30-8pm Friday at the Sego Funeral Home and after 9am Saturday at the St. Benedict Catholic Church.