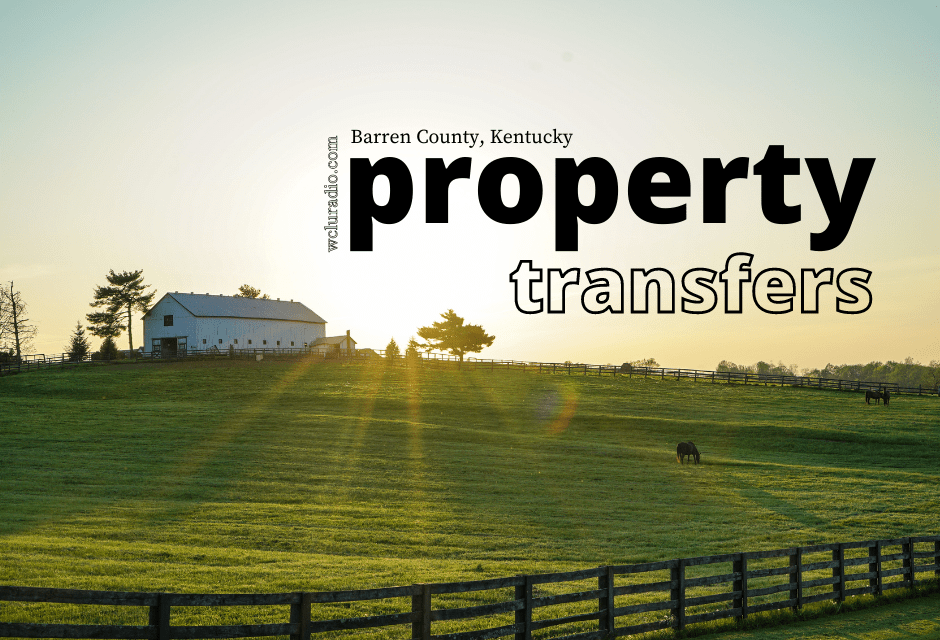 GLASGOW — The following property transfers were recorded at the Barren County Clerk's Office from Sept. 19 – Sept. 24, 2022. Tax information is not reported when money is not exchanged. Such instances include foreclosures, master commissioner deeds, divorce settlements and transfers made within a family.
Sept. 19, 2022:
Herbert J. Proffitt to Jon B. Conwell and Elisabeth A. Conwell, .377 acres (Lot 8), Homewood Boulevard, $175,000.

Jean Harlow and Jagrutiben Patel and Kamlesh Patel, 2 Parcels (P7/653), Highway 90, $45,000.

Michelle R. Sells and Benjamin Sells to Brandon C. Pitcock and Julie R. Pitcock, .917 acres (P18/377), New Salem Road, $320,000.
Sept. 20, 2022:
Eddie Russell and Carla Russell to Adam Russell and Raven Walker, .850 acres, Hutcherson Road.

Carolyn Hutchinson to Abraham P. Gingerich and Fannie E. Gingerich, 2 Parcels, Highway 68/80, $150,000.

Sheila F. Rhoton and Howard E. Rhoton to Woodson D. Brown and Katrina Brown, Lot (21,716 square feet), Tompkinsville Road (Highway 63), $95,000.

Jonathan Dearing and Kara Dearing to Christopher Waid and Ashley Waid, 5. 497 acres (Tract 3 P21/128), Barren County, $240,000.

Drakes Creek Properties LLC to Zachary French and Savanna French, 84.415 acres, Barren County, $419,000.
Sept. 21, 2022:
Ray Powell and Ruth A. Powell to Ronnie Powell and Kimberly Shipley, 2 Tracts, Vernon School Road, $60,000.

Robbie D. Williams and Deanna M. Williams to Michelle R. Sells, Lot 34 (P6/370), Eastern Valley Estates, $205,000.

Danny Graham to Kimberly D. Pryor, .72 acres, Barren County.

Tammy Wilson to Windell Sturgeon and Wanda Sturgeon, .934 acres (P8/410), Wilson Road, $28,000.
Sept. 22, 2022:
Glasgow-Barren County Industrial Development and Economic Authority to K&M Services LLC, Lot 6, Carroll Knicely Drive, $438,400.

Brandon Pitcock and Julie Pitcock to Carl Arflack and Patrice P. Arflack, .195 acres, Leslie Avenue, $190,000.

Cy-Co Land Holdings LLC to Harlan Judd Properties LLC, 2 Lots (P6/685), Runaway Drive.

WCM-Land LLC Series 19 to Farmers National Bank of Danville FBO Avery K. Matney, 5.228 acres (P10/79), Denton Road, $240,000.

Maude T. Isenberg, Estate of Betty R. Bailey, J.S. Calvin Leech to Kylee N. Keller and Christopher R. Clark, Lots 20 & 21 (P15/658), Glover Hills Drive, $14,000.

Southern Cross Estates LLC and Southern Cross Estates Inc. to William A. Philpott and Kelsey Philpott, 2 Tracts, Roseville Road, $100,900.

Thomas C. Pyeatte to Rondal R. Robbins and Kathleen M. Robbins, 2.003 acres (P18/681), Barren County, $175,500.

Anthony Good to Larry Johnson, Lots, Tick Ridge Road, $183,900.
Sept. 23, 2022:
Eric W. Ford to Melisa A. Shields and John L. Sies Jr., 18,033 square feet with RW, Cline Road, $120,000.

Charles E. David Jr. and Crystal Davis to Adam B. Thompson, 2 Parcels, Barren County, $215,000.
Sept. 24, 2022:
Brenda Garmon to E&L Investments LLC, .191 acres (P12/672), Shelley Drive, $86,100.

Cheryl Brooks, Terry Brooks, Cindy Martin and Joey Martin to Benjamin J. Seeley and Ashley Seeley, 25.555 acres (P21/906), Glover Roads, $153,330.

Tommy Fields and Krissie C. Fields to Larry W. Estes and Donita B. Estes, 12,500 sqaure feet (P5/78), Trigg Avenue & North Race, $23,000.