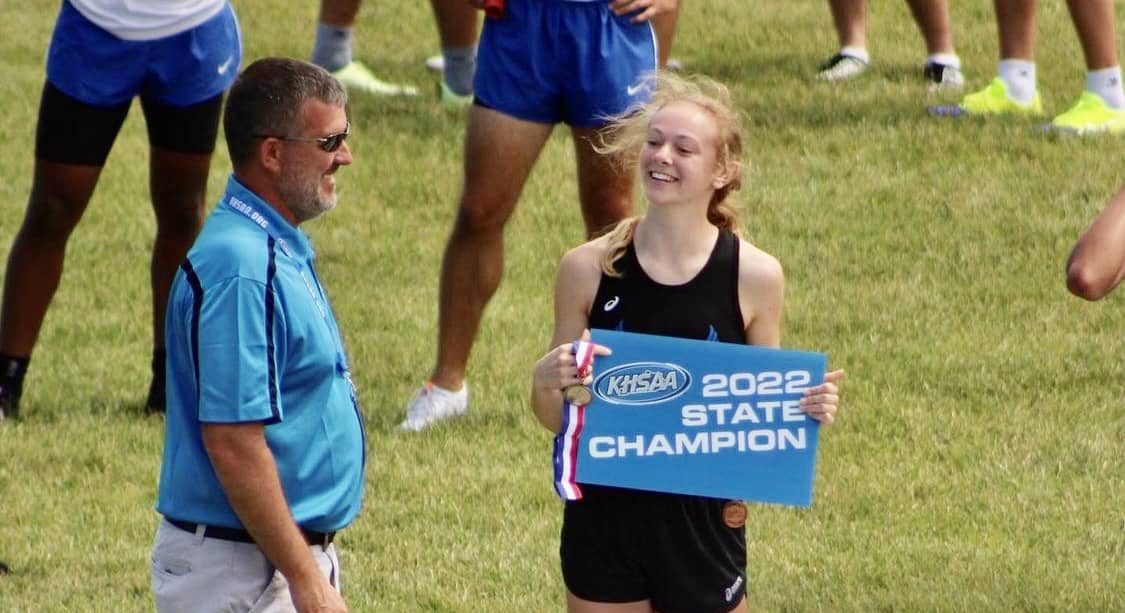 Caroline Murphy, an incoming senior at Glasgow High School, receives recognition as the 2022 Clark's Pump-N-Shop State Track and Field champion for high jumping. The state track meet was held in Lexington, Ky. on Thursday, June 2 – Saturday, June 4.
(COURTESY OF CAROLINE MURPHY)
STORY BY HENRY ROYSE, WCLU Radio
GLASGOW — Caroline Murphy, an incoming senior at Glasgow High, recently won a state championship title for the high jump event during the state track meet.
Murphy jumped an impressive 5 feet 6 inches, which fulfilled a goal she created a while ago to become the Class 2A High Jump Champion. She heirs from a family of track stars. Her grandfather and mother were track and field athletes during their high school careers.
"I always wanted to be a part of the team, and when I got into middle school I started," she said. "But I never thought it would get me to this point."
Murphy also placed fourth in the 100-meter hurdles and fifth in the 300 hurdles. She placed third in the 4×100-meter hurdles alongside Cynthia Austin, Maryonna Bradley and Mikaya Fogle.
She said she hopes to be an encouragement for rising athletes as an instructor at Glasgow High's Scottie Summer Camp.
"I've been so grateful because I've had so many great coaches to help me get to where I needed to be," Murphy said. "It takes a lot of hard work – a lot of focus – to get to that point because it's definitely not something that you can just do. It takes a lot of practice."
Other Scotties took home accolades, too. Winners are listed below.
Jay Long placed fourth place in the long jump.
Mayonna Bradley placed sixth place in the long jump and tenth place in the 200-meter dash.
Blaine Christian placed 14th in the triple jump.
Chase Starr placed 20th in the shot put.
The 4×100-meter relay team consisted of Christian, Daylan Thomas and Braden Kirkpatrick. They placed 21stduring the competition.
The 4×200 relay team consisted of Kirkpatrick, Long, Thomas and Austin Blair. They finished in 24th place.