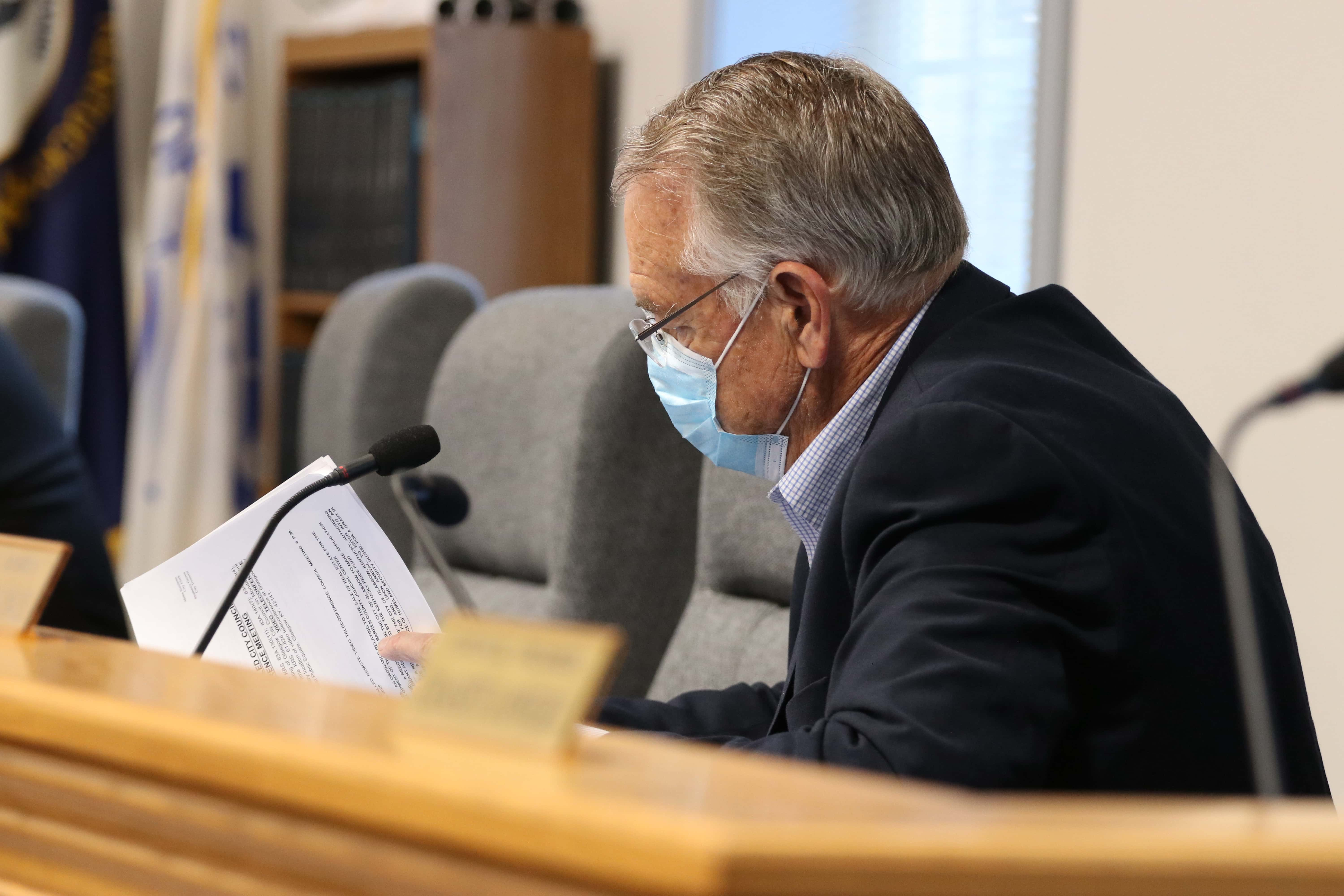 Glasgow City Councilperson Freddie Norris looks at an agenda during a meeting of the Glasgow City Council on Monday, April 27, 2020.
(WCLU NEWS FILE PHOTO)
GLASGOW, Ky. – The City of Glasgow is seeking reimbursement for incurred expenses during the coronavirus pandemic.
The Glasgow City Council on Monday authorized the filing of a Coronavirus Relief Fund application. The funds are disbursed by the Department for Local Government and made available by the federal CARES Act.
"We can do this through the last of November," said Glasgow Mayor Harold Armstrong.
Armstrong said April Russell, city grant writer, is submitting applications for relief every other month. Russell has submitted one thus far, but the DLG required the city to pass a resolution before it would be considered.
The current application seeks reimbursement for plexiglass installations in city buses and "the hard-shell stuff," Armstrong said. Hand sanitizer, masks and disinfectant expenses have also been logged.
"Anything that we had to do because of the COVID-19, we're applying to try and get reimbursement," Armstrong said. "It could amount to $50, 60, 70,000. I don't know. But we're going to submit everything that we have until the time runs out."
Councilperson Terry Bunnell asked if Glasgow was still eligible for up to $1 million, but Armstrong said he had not heard that. He also said the city could not possibly demonstrate that it has spent that much thus far.
Armstrong said he could not estimate what the city would receive if given money from this application. A large portion of the expenses lie in the payroll.
"We don't have any idea," Armstrong said. "We haven't even got employment where we had to let people stay home for 14 days because their spouse tested positive."
Councilperson Freddie Norris inquired about the city's upkeep in testing. Armstrong said anyone exposed to the virus is tested. Those people are quarantined until deemed safe to return to work, but the payroll expense for the city continues to grow in those moments.
"Any time that somebody has a connection with somebody that has shown to have COVID – and they've been in contact with them – they are going to be tested," Armstrong said.
Armstrong said two employees at the fire department and landfill have been exposed, which means those employees had to be tested and away from work.
"If we have a bunch of employees that are out for the 14 days, and they test positive, and then we resubmit for their wages because we have to pay them while we've got them quarantined, then it could add to a great big number," Armstrong said.
Russell is expected to submit the second application by mid-August.
In other news, Denise Dickinson and Justin Richardson were reappointed to the Glasgow Airport Board. Dickinson is set to serve a three year term while Richardson's term lasts four years.
Bill Anderson and Joan Norris were reappointed to the Code Enforcement Board. Both are serving a three year term.